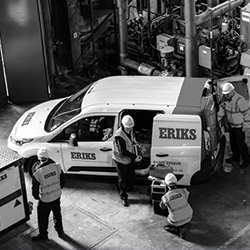 There are six product areas at the heart of ERIKS. And there are six reasons why ERIKS is your best source for products for all six areas.
Products are at the heart of everything ERIKS does. ERIKS' engineering know-how, commitment to providing long-term solutions, and great customer service, all exist simply to support and enhance the product offering.
It's an offering which encompasses SIX product areas essential to industry:

Bearings and lubrication

Power transmission

Fluid power, transfer and control

Sealing and polymer

Flow control


Tools, safety and maintenance
ERIKS' range of products across those areas has been developed over many years of working with customers and listening to what they want. ERIKS has established long-term partnerships with product designers and manufacturers, to help them create the reliable and energy-efficient products customers need.
And ERIKS is committed not just to selling those products, but to supporting them through maintenance, repair, upgrade and end-of-life replacement.
So what six key elements lie behind those product areas?
1. Sourced and Selected for You
It doesn't matter whether you are looking for simple products off-the-shelf to meet standard applications, or a product to meet a unique or complex requirement. ERIKS has the stock and the expertise to meet your needs.

With £23m of stock, and access to over 1.3m product lines, you won't catch ERIKS out with a product requirement, or be fobbed off with a product that needs to be shifted. ERIKS' brand-neutrality means you'll always be supplied with the best option to suit your specific needs – not to suit ERIKS' sales targets.

ERIKS even goes further, and can offer expert advice on selecting products to increase
2. Supplied the Way You Want
Getting the products you want is one thing. Getting them the way you want is another.

ERIKS has a central distribution warehouse that can ensure timely delivery of your order, anywhere in the country. But there's also a network of ERIKS regional hubs, stocking products tailored to the needs of local industry. That means even faster delivery, from stock that's virtually on your doorstep.

You can also choose from a range of product supply solutions, such as kitting or bills of materials.

Whatever you want, however and wherever you want it, ERIKS has the answer.
3. Continuity, Not Counterfeit
When you've found the product you want, the last thing you want is for it to be out of stock or swapped for another brand the next time you need it. Thanks to ERIKS' long-term relationships with leading manufacturers, and a wide range of ERIKS' flagship brands, you can be sure that the product you want is the one you'll get – every time.

It will also be fully traceable, giving you complete peace of mind that's it's a genuine, quality product manufactured to the spec it promises with the materials it claims. So there's no danger of a substandard counterfeit component causing a potential catastrophic failure of your equipment.

With ERIKS' fast stock turnover you can also be sure that the product you buy is factory-fresh. Since some products – like electrical components or those containing rubber – can deteriorate over time, that's an important point to remember.
4. Industry Inspiration, Insight and Innovation
ERIKS works across a wide range of industries, which gives the company a unique insight into products, practices, applications and solutions. That knowledge can be transferred from industry to industry, helping you to find new and more efficient, more reliable, safer or more productive solutions to old problems.
5. All-Round Performance
The better ERIKS' products perform, the better our customers' businesses perform. And the better a customer's business performs, the better it is for ERIKS' business.

That's why ERIKS works to develop long and strong customer relationships – for everyone's benefit.

The proof is in the KPIs and SLAs which ERIKS helps customers to achieve. Along with a lower Total Cost of Ownership, and £2m of signed-off customer cost savings every month.
6. Zero is Everything
A zero accidents policy is everything to ERIKS. This commitment to safety extends right across internal working practices, to product selection, to customer contact.

All of which helps to make ERIKS your safest choice for products, in more ways than one.
Related Posts