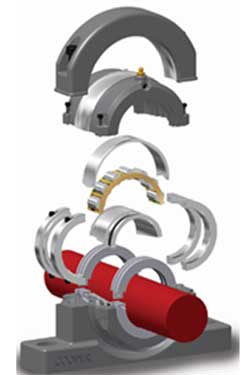 To reduce machinery maintenance and repair downtime, whether planned or through bearing failure, SKF Cooper split roller bearings are the ideal solution.
SKF Cooper bearings are split to the shaft, making them ideal for inaccessible or trapped locations, such as between a head pulley and gearbox or motor, and eliminate the need to dismount associated equipment.
Split to the shaft bearings disassemble into smaller components, easing the task of lifting and handling, and making assembly or changeout simple, even in the most cramped and inaccessible locations. Clearances are pre-set, so no need for on-site adjustment, and no specialist fitting tools are required.
The current range is the widest on the market, comprising four series of cylindrical roller bearing and two types of split tapered roller bearing. The standard manufacturing range is available for bore sizes from 30 to 1,500 mm.
SKF Cooper is the only manufacturer of split bearings to have its own integrated foundry, ensuring attention to quality for both the bearing and its housing. Housings are produced and machined in a variety of configurations and materials, including grey cast iron grade 250, nodular iron, steel, aluminium and stainless steel.
Related Posts