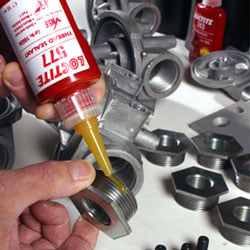 If you want to achieve optimum productivity, then efficiency and reliability are part of the deal. For air, water and gas pipes and hoses, that means no leaky joints. Which means you need an efficient and reliable method of sealing them.
As with most things in equipment maintenance and repair, there's a traditional method and a more up-to date method. But unless you're from the "that's what we do because we've always done it" school, the question you need to ask is which method works, works first time, and works most reliably for longest?

Let's compare traditional sealing using non-curing pipe compounds, with Henkel's LOCTITE® branded adhesives.

Traditionally less reliable

One of the oldest methods of sealing the spiral leak paths of threaded joints is with non-curing pipe compounds.

These are pastes made from oils and fillers, which lubricate and compact into the threads. Although they do create a seal, they provide no locking – and if they're placed under pressure they can squeeze out. They also have poor solvent resistance and don't solve the problem of sealing for parallel threads. An alternative is solvent-based sealing compounds. These also lubricate and compact into the threads to create a seal, though once they've been applied the fittings must be re-torqued to minimise any voids.

But that isn't their greatest failing. Their major disadvantage is that as the solvents evaporate during cure, the compounds shrink, which compromises the efficiency of the seal.

Got it taped?

PTFE tape is a solution that demands experience and expertise to give it any chance of working effectively and consistently. This is particularly true if you're trying to seal an elbow, valve or pressure gauge fitting, for example, which needs tightening up to a particular position.

The tape does give a good initial seal, and one which resists chemical attack. It even acts as a lubricant – but when it does it allows fittings to loosen under dynamic loads, which leads to loss of clamping force and, inevitably, leakage. It also encourages over tightening of fasteners, which adds to joint stress and can even cause parts to fracture.

PTFE tape is not suitable for use in hydraulic systems, as it has a tendency to shred. Small pieces of tape can then break free to clog key apertures, leading to severe maintenance problems.

Lastly, perhaps one of the most traditional of all traditional methods is hemp and paste, which has been used for many years. Demanding a certain amount of experience and skill to achieve a complete seal, it is messy, slow to assemble, and unsuitable for use on fittings carrying potable water.

Sealing made simple

While the more traditional solutions make sealing a hit-and-miss process that takes far too much time, the LOCTITE® family of pipe thread sealants offers reliable easy sealing time after time.

These single component sealants are clean and easy to apply, and won't creep, shrink or contaminate systems. The LOCTITE® liquid sealants can be used on pipe fittings up to 3", and LOCTITE® 55 Pipe Sealing Cord can be used on pipes with a diameter of up to 4". Both types are approved by all the relevant major agencies.

Liquid or cord, the products create a full pressure seal that resists vibration and shock loads, as well as protecting the mated threaded areas against corrosion. But just because they're proven effective doesn't mean they're not still being improved.

For example, LOCTITE® 577 – Henkel's medium strength, anaerobic general purpose sealant – has been the subject of continuous development. Its latest formulation introduces several improvements, including higher strength on contaminated surfaces, the ability to withstand higher temperatures, and high performance on passive materials, without the need for an activator.

Reel savings

The LOCTITE® 55 Pipe Sealing Cord mentioned above may be simple technology, but it's simply very effective: sealing threaded fittings (metal and plastic) quickly, cleanly and cheaply. Its new 160m dispenser even enables a single reel of cord to seal up to 405 half-inch thread joints.

So if you step away from the traditional sealing solutions and try the LOCTITE® sealants instead, you'll find you can make more consistent and more reliable seals, more quickly and more easily. Which means you can maintain productivity of your equipment, and of your maintenance engineers.

Related Posts