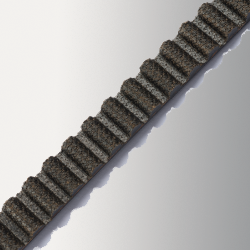 In time to meet the increasing demands on machines, and the need for higher-performance belts, ContiTech have introduced the strongest rubber timing belt in their range.

Available in HTD, STD and CTD sections, and an 8M pitch, this new belt from ContiTech makes light work of heavy-duty drive applications.
The Synchroforce Carbon is a heavy-duty belt with a carbon tension member. Combining carbon fibres – which scarcely stretch even under high tensile loads – and a compound specially designed to cope with high demands, the new belt is a durable drive solution for challenging applications.

A boon to OEMs designing cost-effective drives with a small installed size and low weight, the belt transmits rotary motion with high angular precision. With a high tear strength and dynamic load capacity, it enables synchronous drives to operate in extremely tight spaces.

Completely maintenance-free, the Synchroforce Carbon needs no lubrication or retensioning. Resistant to ozone, oil and temperatures from -30°C to +130°C, it's also electrically conductive to ISO 9563.
Related Posts