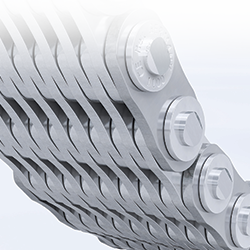 Renold has become the first chain manufacturer in the UK to be awarded ISO 9001:2015 for quality management.

More than 20 years after it was awarded its certification for achieving the original ISO 9001 quality standard, the company's site in Bredbury, Stockport has met all the requirements of the latest update of the standard.
The new certification proves the company has lost none of its commitment to exceeding customers' expectations in the intervening decades.
The quality audit covers manufacturing, product, value for money, skills, training, continual improvement and delivery punctuality at the site, which is one of the largest facilities of its type in the country.
The Stockport Service Centre produces conveyor chain and attachment chain to customer specification. Its Operations Manager, Alec Annand, explained that receiving the ISO certification "demonstrates our ability to meet our customers' exacting requirements by providing quality solutions delivered on time and to the highest quality levels."
Related Posts