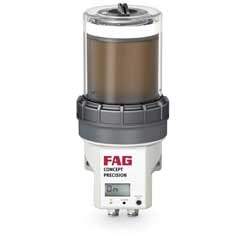 Two into one does go. Or at least it does when you're talking about combining two lubrication devices in one, for convenience and compactness.
That's the idea behind the FAG Concept2 lubrication system: one of the innovative products in Schaeffler's wide range of automatic lubricators.
Ideal for situations where machines or lubrication points are difficult to access, or where machines are critical to the production process, automatic lubricators have long been a simple solution. And the FAG Concept2 simplifies things even further by reducing the number of lubricators required.
Instead of designing-in (if you're an OEM) or retrofitting (if you're an end-user) two lubricators for two applications – such as rolling bearings – with the FAG Concept2 you can do the same job more efficiently and cost-effectively with just one lubricator. And it doesn't even matter if the bearings are two different sizes.
Pump up your options
The Concept2 has two lubrication points, which can be controlled by one piston-dispensing pump, or by two individual pumps. So just because you've combined your lubricant in one device doesn't mean you limit your lubrication options.
When fitted with two pumps, the Concept2 can be adjusted to lubricate up to two different bearing sizes, with differing lubrication requirements – even including different lubrication intervals.
Suitable for dispensing oil and grease up to NLGI 2, the Concept2 has a 250cm3 replaceable cartridge lubrication reservoir, which for most lubrication requirements allows for reasonable intervals between replacements. The cartridge is transparent, making it quick and easy to check the lubricant level at a glance.
The lubricant reservoir feeds reliable piston feed pumps, which have a delivery pressure of up to 50 bar when the device is being powered by 24V DC.
The Concept2 also offers the option of being battery-powered, in which case delivery pressure is slightly lower, at 30 bar.
Hot stuff, and really cool
Given the wide range of operating environments where bearing lubrication is required, the wide operating temperature range of the Concept2 will prove invaluable. Able to continue dispensing at temperatures from as low as -20°C to as high as +70°C – and protected to IP65 – it's suitable for numerous applications across many industry sectors and assets.
As well as the relubrication of rotary tables, the Concept2 can be used to lubricate a variety of rolling bearing applications, including:
Pumps

Fans

Compressors

Gearboxes

Electric motors.
Simply easier
With a integrated LCD user display, and just two keypad control buttons for set-up and adjustment, the Concept2 is easy to operate. And automation makes it easier to keep track of your lubrication regime, without constant on-the-spot checking.
For example, the metering quantities are maintained accurately, regardless of the ambient temperature. This ensures sufficient lubrication in conditions across the whole operating temperature range of the device. The motor-running and filling level are also automatically monitored and – as a customer-specified option – the Concept2 can be activated using an external control unit.
Providing high pressure build-up, the automatic lubricator measures back pressure, right up to the lubrication point.
With space often being a problem on and around many assets, the opportunity to reduce the overall footprint of your automatic lubricators is an attractive one. And if you can also save on maintenance and refilling time – while still being assured of accurate lubricant dispensing and a reliable lubricant feed – then you don't need to be a genius to do the maths.
Two into one lubricator equals real cost-efficiency and effectiveness, when the one is the FAG Concept2.
To find out more, contact your usual ERIKS service centre.
Related Posts