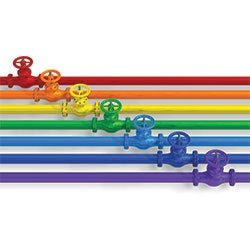 If you're taking the opportunity of the summer months to maintain, repair or replace your heating pumps, there's one important point to remember. If you want to cut your energy costs, a "like-forlike" replacement might save you some specifying time, but in every other way it will cost you.
A like-for-like swap isn't only a bad idea. It might actually not be possible. After all, surveys reveal that up to 60% of pumps in plant rooms and pumping operations are obsolete. So you may not be able to replace your old pump with the same again, even if it were a good idea. Which it definitely isn't.
Why isn't it?
Because the difference in efficiency between your old pump and one with the latest technology can be as much as 15%. And you might be bored with hearing that 95% of the cost of running a pump is energy, but it gets repeated so often because it's a fact.
If you're running an old, inefficient pump, it's a frighteningly expensive fact too.
Pump or drain?
The summer is a great time to overhaul your pumps. But you can save time, effort and money by auditing them first.
How's their performance? How reliable have they been? How much energy do they currently use? And to help you decide which pumps and their problems should be dealt with first: which are the highest energy users, and which the lowest – based on operating hours, usage and motor size?
In other words: which pumps are an energy and resources drain?
Those may sound like difficult investigations and complex calculations. But a pump systems auditor certified by the British Pump Manufacturers' Association – as ERIKS is – will make it look easy. Using data logging and years of experience to provide a comprehensive assessment, ERIKS will also be able to calculate payback periods for any replacement pumps which may be required.
Repair or replace?
It's not only your pumps which may be a problem. Mechanical and electrical issues are often system related, and may give valuable clues to larger problems with the installation.
On the other hand, the pumps may be doing just what they were designed to do. But if the duty requirement has changed since they were installed, they're never going to be energy-efficient, however hard they try.
With so many possible problems, you need a choice of solutions.
So a solution-neutral supplier like ERIKS – able to repair or replace, and to supply pumps from a number of different manufacturers – will keep your options open. And will help to ensure that this winter, you have the pump system you need to put the heat into your facility, and take the heat off your energy usage.
Related Posts