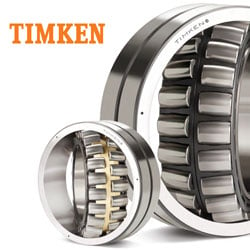 Nobody pays much attention to roller bearings until they cause operational downtime. That is the moment when you discover it costs more to pay less.
Now you can offer even more high-performance alternatives that are especially attractive in industries where downtime is expensive. Availability has never been better with Timken's expanded range of EJ steel cage and brass cage designs.
High-performance Timken® Spherical Roller Bearings are engineered to increase operational efficiencies and extend maintenance intervals. They offer:
Lower Operating Temperatures - Rollers are guided by cage pockets—not a center guide ring—eliminating a friction point and resulting in 4–10% less rotational torque and 5ºC lower operating temperatures.* Less rotational torque leads to improved efficiency, lower energy consumption and more savings. Lower temperatures reduce the oil oxidation rate by 50% to extend lubricant life.
Tougher Protection - Hardened steel cages deliver greater fatigue strength, increased wear resistance and tougher protection against shock and acceleration.
Optimised Uptime - Unique slots in the cage face improve oil flow and purge more contaminants from the bearing to help extend equipment uptime.
Minimised Wear - Improved profiles reduce internal stresses and optimize load distribution to minimize wear.
Improved Lube Film - Enhanced surface finishes avoid metal-to-metal contact to reduce friction and result in improved lube film.
Higher Loads - Longer rollers result in 4–8% higher load ratings or 14–29% longer predicted bearing life. Higher load ratings enable you to carry heavier loads.
Brass Cages - Available in all sizes; ready when you need extra strength and durability in the most unrelenting conditions, including extreme shock and vibration, high acceleration forces, and minimal lubrication.
For more information on how to increase your operational efficiencies and extend your maintenance intervals contact your local ERIKS UK & Ireland Service Centre on 0845 006 6000.
Related Posts