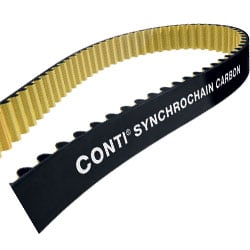 Industry has been getting particularly excited about condition monitoring over the past few years. It's easy to understand why: at its most sophisticated, it has the potential to significantly reduce the amount of downtime needed for repairs and maintenance, eliminates expensive damage to equipment, and focuses resource where it is needed.
The Synchroforce Carbon is a heavy-duty belt with a carbon tension member. Combining carbon fibres – which scarcely stretch even under high tensile loads – and a compound specially designed to cope with high demands,the new belt is a durable drive solution for challenging applications.
A boon to OEMs designing cost-effective drives with a small installed size and low weight, the belt transmits rotary motion with high angular precision. With a high tear strength and dynamic load capacity, it enables synchronous drives to operate in extremely tight spaces.
Completely maintenance-free, the Synchroforce Carbon needs no lubrication or retensioning. Resistant to ozone, oil and temperatures from -30°C to +130°C, it's also electrically conductive to ISO 9563.
Related Posts