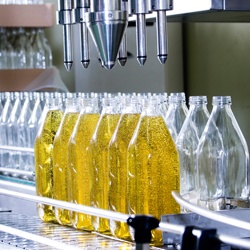 SEEPEX have launched a new Smart Dosing Pump (SDP), enabling customers to input one parameter –the flow rate required – and then the integrated PLC makes adjustments automatically when necessary using information from a flow meter on the pump outlet.
Operation is simple: the SDP comprises a progressive cavity pump with an intelligent inverter drive which is programmed either locally via an HMI or centrally via a fieldbus interface. The SDP can also be controlledvia analogue/digital I/Os either locally or remotely by a PLC.
The flow rate, once set, is monitored and controlled entirely by the pump drive which adapts to variations in operating conditions, ensuring accurate repeatable dosing of even the most viscous products. Dry running and over pressure sensors feedback to the drive and protect the pump from damage.
The accuracy of both batch and continuous flow is ensured, ensuring product quality is maintained and efficient operation of the pump delivers the lowest life-cycle costs.
The Smart Dosing Pump delivers all of the benefits of progressive cavity pumps with added control options.

Progressive Cavity Pumps

for Accurate Dosing
Progressive cavity pumps (PCP) are able to handle low to high viscosity products with or without solid particles. Shear sensitive, abrasive and corrosive products can all be pumped using these self-priming pumps, which perform suction lifts of up to 9 m. Soft solids are not a problem either, removing problems with sticking ball valves often found with diaphragm pumps.
Linear Accuracy for Product Quality
PCPs have a linear flow directly proportional to pump rotational speed and this feature, combined with minimal pulsation, delivers accuracy over arrange of product viscosities and discharge pressures. As the pump speed can be varied by use of variable frequency drives (VFD) accurate addition of minor ingredients such as colours and flavours for different recipes can be achieved quickly and without lengthy recalibration, maintaining product quality and reducing wastage. Raw material costs are controlled as the metering accuracy is higher and expensive minor ingredients are dosed efficiently.
Real time control
Flow meters measure and control flow in real time compared to frequent calibration using calibration pots which are required with pulsating flow. Reaching an assured dose rate, often <10 ppm is not a problem and overdosing, often required with pumps that pulsate, is not needed. The smooth flow, regulated by following a 4-20 ma or similar signal, delivers an accurate, specific dose.
Installation flexibility
Due to the constant flow from PCP, pulsation dampeners are not needed, saving on installation and maintenance costs compared to peristaltic and diaphragm alternatives. The lack of pulsation also reduces system costs associated with pipework because smaller bores can be used in long distance pumping. Reliability is high and wear occurs gradually so predictive maintenance can be planned.
With a high potential turndown ratio of over 3000:1, flow rates from 200 ml/h to 1000 l/h and pressure up to 48 bar, PCP are the solution to many dosing problems. For those installations that demand a compact footprint, vertical or horizontal orientation is possible; they can be attached to a wall or even hung upside down if necessary!
All in all, a compelling argument if you need reliable, accurate dosing with low running costs.
Related Posts