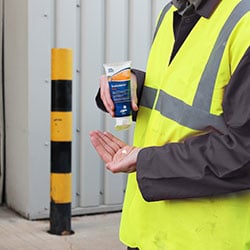 Unless they're ski instructors or snowplough drivers, few people enjoy working in freezing or very cold conditions. It's tough enough to maintain productivity when you're cold, but that's not the only problem. In some cases, very low temperatures can cause actual physical harm.

Cold weather outdoors or cold conditions indoors cause the humidity level in the atmosphere to drop, so the air itself becomes cold and dry. As a result, the water which is naturally present in the skin evaporates away more quickly than usual.

Dry skin can be uncomfortable in the short-term, and can even reduce a worker's productivity. In the long-term it can lead to severe problems, including Occupational Skin Disorders. These can be debilitating, resulting in:
negative effects on the sufferer's morale

reduced productivity

inability to work at all

reduced earnings or cessation of earnings

knock-on effects for friends and family.

Most people will think of cold-related problems as being a seasonal issue for those working some or all of the time outdoors – like those ski instructors and snowplough drivers, and also workers in construction and mining, for example. However, the cold can actually cause problems at any time of the year across a number of industries.

Workers in the food and catering, transport or logistics sectors, for instance, may be working in refrigerated environments and spending time in the cold all year round. For them, the effects of cold are experienced as a permanent problem.

No doubt both indoor and outdoor workers are issued with or wear suitable clothing, but what about those parts of the body which are generally or often uncovered, such as the face and hands?

For those, a skin protection cream is the answer.



Strengthening natural protection


Almost any skin cream will help to prevent dryness to some extent. However, not all creams are suitable for applying in sub-zero temperatures, as they may freeze on the surface rather than being absorbed into the skin – perhaps making the problem worse.

To overcome this problem, Deb have specially formulated a cream for their Deb Stoko range, called Stokoderm Frost.

This specialist pre-work cream not only has a dual-action formula to prevent skin dryness. It can also be applied at temperatures as low as -30°C and will still be quickly absorbed. This makes it easy to apply, so people are more likely to use it, and because it is readily absorbed it can even be used under gloves, helping to maximise skin protection.

The anti-freeze effect of Stokoderm Frost helps to strengthen the skin's natural barrier, to keep users comfortable throughout the working day. Dermatologically tested, it's safe to use on any exposed skin, including hands and face.

Don't wait until the next cold snap to find out more about Stokoderm Frost and its "anti-freeze for people" effects. Contact your usual ERIKS service centre now.
Related Posts