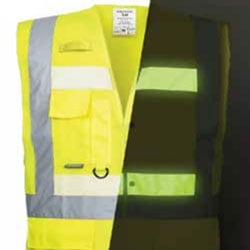 For workers in low- or no-light conditions, clothing incorporating the latest Glowtex™ Triple Technology from Portwest can make sure they're seen, and safe, at all times.
In daylight, the brightly coloured fluorescent background fabric makes the wearer highly conspicuous. At night, Lumentex™ retroreflective tape bounces light – from headlights, for example – back to the source, so the wearer is visible even in poor weather conditions. Lastly, light-emitting Glowtex™ phosphorescence tape literally glows in the dark for up to 6 hours, after as little as 5 minutes' exposure to daylight or artificial light.

Lumentex™ uses thousands of glass beads per square centimetre to reflect like tiny mirrors, while Glowtex™ contains phosphorus molecules which are "charged" by UV light and then use that energy to glow when the light is extinguished. Tested to EN ISO 20471 and ANSI ISEA 107-2015 standards, Portwest Glowtex™ Triple Technology makes clothing safe, safer, safest.
Related Posts