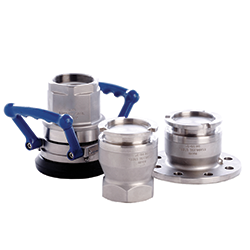 When working with fluid transfer applications, especially ones transferring hazardous or high value liquids, you need a reliable dry-disconnect solution which delivers zero spillage and minimal environmental and health & safety risks.
MannTek's Dry Disconnect Couplings are ideally suited for use in such areas. What's more, MannTek products are able to withstand the harshest of environments from the blistering heat of the Middle East to the sub-zero temperatures of the arctic circle.

Due to application-based specifications and variants, MannTek's range of couplings and adaptors, also referred to as tank and hose units, number in the thousands.
The Dry Disconnect Coupling system consists of a coupler, or hose unit and adaptor or tank unit. The operator simply connects the two parts via a turning motion. This turn of the coupler engages internal valves locking and sealing the two units together. A further rotation in the other direction opens internal valves allowing product to flow.

Available in sizes from ¾" up to 8" Dry Disconnect Couplings are engineered to handle products such as chemicals, fuels and pharmaceuticals but they are designed in such a way that by amending the body and seal materials the Dry Disconnect Couplings are capable of moving almost any liquid or gas.

Safety Breakaway Couplings

And for those concerned about pull-away incidents, MannTek have a solution for that – Safety Break-Away couplings.

Safety Break-Away couplings are an engineered 'weak point' that are designed to break and close a hose or pipe should a pull-away incident occur during loading or unloading of a road tanker, rail tanker or ship. MannTek engineers have precisely calculated pre-determined break-loads allowing clients to choose from a range of safety break-away couplings available. Available in a range of sizes, materials and seals, safety break-away couplings can handle a wide range of products from oils & gases to chemicals.
Want to know more? Contact your local service centre on 0845 006 600. Or if you're attending the ERIKS Innovation Excellence event at the MTC, Coventry, 3rd October 2017, visit the MannTek Stand.
Related Posts