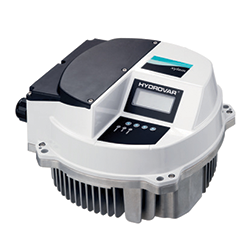 Offering energy savings of up to 70 per cent, Xylem, a leading global water technology provider, has launched the Hydrovar 5th Generation variable speed pump drive with a wealth of new features and new additions to the range.

Known for its robust and quality design, Hydrovar is now available across 21 models ranging from 1.5kW-4kW single phase to 22kW 3 phase – ensuring there is an option for each and every application. New features include a separate wiring compartment, with a dedicated cover to ensure wiring components are protected. What's more, the electronic power component is potted, meaning that there is increased thermal dissipation and robust protection against vibration and condensation issues with the ability to operate down to an ambient temperature of -10oC.
For efficient operation the Hydrovar 5th generation is best in class and when connected with a Lowara IE3 motor, the system can achieve the highest IES class – IES2. This ground-breaking efficiency enables customers to achieve energy savings of around 70 per cent, when compared to a fixed speed pump.

For further ease of installation during motor mounting, there are now just two clamping kits across the three mechanical sizes. Motor clamps are also now designed with strap-like links, which can easily be snapped off for the perfect fit. A larger LCD display shows an expanded range of system parameters, making it easier to commission and operate. Included in the backlit display is a quick start-up menu for faster set-up, featuring a pre-programmed parameter for standard motors. Users also have the option to select a 'self-learning capacity' feature which enables installers to quite literally install and go, with no requirement for programming, even on non-Lowara products.

For even greater simplicity during the installation process, Hydrovar is motor or wall mountable, via a simple process which allows you to 'clip and work' onto any standard AC motor.

In addition, the range is now compliant with the latest Harmonic Distortion legislation, reducing contaminating signals and therefore wave discrepancies. Furthermore the Hydrovar now features a protective screen to reduce Electro Magnetic Compatibility (EMC) interference.

Specifiers can choose between the standard Modbus or Bacnet versions, and there is now also the option to be Wifi enabled. Software Thermal Control (STC) is built-in and will detect if the Hydrovar is too hot or if the motor is overloaded, enabling the operator to act quickly - ensuring the extended life of the motor. This built-in software protection has eliminated the need for a separate motor PTC.
Want to know more? Contact your local service centre on 0845 006 600. Or if you're attending the ERIKS Innovation Excellence event at the MTC, Coventry, 3rd October 2017, visit the Xylem Stand.
Related Posts