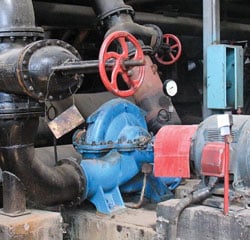 Wear and corrosion are major threats to equipment and systems in mining and quarrying. Pump castings, impellers and volutes, for example, wear due to corrosion, erosion, cavitation and mechanical damage. But a solution to restore performance and efficiency, and even extend operating life, can be as simple as a new coat.
The combination of ERIKS' proven engineering know-how and Henkel's experience and expertise in ceramic and energy-saving coatings, results in repairs to the highest standards, using the best products for the job. The products in this case being Henkel's range of Loctite® surface engineering products and systems, for equipment build, repair and maintenance.
The suit that's a coat of armour
Henkel Loctite® polymer composites coatings and compounds protect pumps and other parts against attack.
Formulated with ceramic fillers, they can be brushed, sprayed or trowelled on, to create a sacrificial and renewable working surface with excellent wear resistance and superior adhesion, that protects the original substrate's structural integrity.
This means they can restore worn surfaces on old parts, extend part life on new products, and increase component efficiency in all cases.
One example is a 22kW ELPO pump used for handling process water, which ERIKS recently tested, evaluated, and rebuilt using Loctite® coatings.
Rebuilt to perform
Initial tests showed the pump underperforming by at least 30% against the manufacturer's original test data. Dismantling and inspection at ERIKS' Southampton EMS workshop revealed heavy corrosion, and a worn, burred and imbalanced impeller. But that wasn't all.
The mechanical seal had seized, and the pump was out of alignment with the motor. THe volute was cut-water worn, the bearings showed evidence of fretting and corrosion, and there was no inverter rating for the motor. In fact, it was the perfect test bed for Loctite® coatings and ERIKS' engineering.
£19,680 energy saving over 5 years - 31.5%

28 tonnes CO2 saving in year one

Proven efficiency gains of up to 43%
Would a coat make your pump more efficient?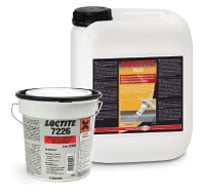 Firstly, all components to be coated were steam cleaned, and blasted to 75 microns surface roughness.
The substrates were then pre-treated with Loctite® 7515 to prevent corrosion and improve adhesion between the metal parts and the polymer composites. Next, Loctite® 7117 was applied as a "hold coat" to smooth out surface imperfections, and to provide a better key for the thicker layers which would return the pump to its original dimensions.
Loctite® 7226 was applied next as the "build coat", to provide a very tough, wear-resistant surface. Loctite® 7117 was then applied over 0this coat, to create a very smooth, friction-reducing finish to improve the pump's energy efficiency.
Finally new bearings and oil and mechanical seals were fitted, the impeller dynamically balanced, the pump re-assembled, and a new 22kW high-efficiency motor fitted. Motor and pump were then fitted to the bedplate, and laser aligned.
Outstanding efficiency
When a second performance test was performed, the results were outstanding.
ERIKS' remedial work and the Loctite® coatings had restored the pump to original specification: increasing its efficiency by 30%. The initial cost of the repair was £5,542, but in the first year alone estimated energy savings equalled £3,936 – and attracted a Government incentive payment under the Enhanced Capital Allowance Scheme (for investment in energy- saving equipment) of £585.90.
So over one year the repair cost was effectively reduced to just £685. And over five years, energy savings will amount to 51.90 MWh, or £19,680. Carbon emissions were cut by 28 tonnes in year one. And all that on just one pump.
Needless to say, the customer is now investigating the potential energy savings of more pumps receiving the Loctite® treatment from ERIKS.

Pump protection plus
That pump repair is just one example of the effectiveness of Loctite® coatings in restoring flow and pressure and reducing power consumption, for pumps suffering from cavitation effects and wear on impellers and casings.
In other cases there have been proven efficiency gains of up to 43%.
In addition, there are energy savings to be had (a recent customer confirmed an 8% energy saving in their application), savings on replacement parts, and a reduced spare part inventory.
Loctite® product formulations also fully comply with the latest CLP Regulations, so users can be sure they are not only adopting best practice for pump repair, but also for workplace safety.
Which means Loctite® products protect pumps – and people too.
Related Posts: