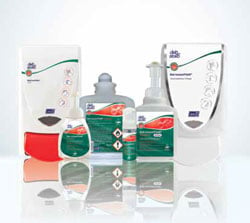 The world's first alcohol-based foam hand sanitiser, formulated to kill 99.999% of many common germs in just 15 seconds, has been launched by Deb Group.
84% of users in an independent survey said they preferred new Deb InstantFOAM ® Complete foam format over alcohol-based gels. But pleasant to use doesn't mean pleasant to germs.
Fully virucidal (to EN 14476), bactericidal (EN 1500), yeasticidal (EN 1650), and mycobactericidal (EN 14348), with no risk of antimicrobial resistance, Deb InstantFOAM ® Complete meets the highest European microbiological standards.
Part of the Deb Stoko® range, Deb InstantFOAM ® Complete is hypoallergenic, and in tests even 48 applications a day for 5 days caused no skin dryness and had no adverse effect on skin conditions.
Designed for use without water, unique perfume- and dye-free Deb InstantFOAM ® Complete is available in a range of pump bottles, cartridges and dispensers.
Ideal for sensitive environments such as the food industry, it's non-tainting and won't affect food quality or safety.
Related Posts