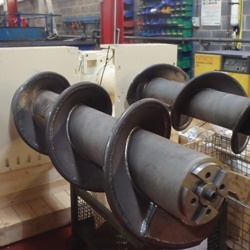 We know a man, who knows a man...
When a British plasterboard manufacturer faced a challenging project, it was ERIKS who they chose to help them supervise and co-ordinate, and ultimately to deliver a successful conclusion.
It's not often that an engineering project – whether it's a repair, a refurbishment or a replacement – is straightforward. And when components are being supplied by manufacturers from across Europe, it only adds to the complications.
It's at times like these you need a project management team with the experience and the know-how to take control.
Taking it apart…
The equipment requiring attention was recycling scrolls , the scrolls comprise four drives, positioned side by side, driving large knives which cut into defective plasterboard. This allows the plaster to be sieved out and recycled back into the process.
The gearboxes had already been refurbished after 10 years of use, but were now beginning to require regular repair, making them less cost-effective. It was decided it was time not only to replace the gearboxes, but also to take the opportunity to review the whole system – gearbox, gearbox housing, shaft, shaft housing, and the scrolls themselves – and bring it up to a more up-to-date specification.
With this in mind, two of the four recycling scrolls were dismantled and shipped to ERIKS' Drives Technology and Gearbox Solutions Centre in Dudley.
Bringing it together
With the scrolls now completely disassembled, ERIKS engineers looked at each individual component with a view to finding a more efficient solution.
A new design was presented to the client and approved, and tenders issued for the various elements.
With experience and expertise across a wide range of engineering disciplines, the job of assembling and testing the new design also fell to ERIKS. This was made more complex by the fact that the original gearbox was obsolete, making it impossible to source a like-for-like replacement, and the version ultimately specified was dimensionally different from the original.
With components being sourced from throughout Europe, managing the project and keeping to the required timescales was challenging. However, despite the difficulties which inevitably arise during a project of this scale, ERIKS had the new equipment re-installed within five months from initial strip-down, including design work.
With two recycling scrolls back in operation , the satisfied customer then asked ERIKS to repeat the process for the remaining two. This time, with the design work available from the first two drives, the complete project took under four months.
Now production is back to full capacity for recycling its internal plasterboard waste – with minimal interruption.
Related Posts