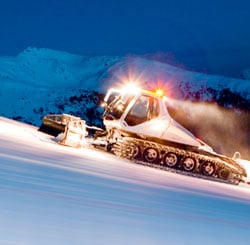 When the going get tough and temperatures hit sub-zero, the meet the beast, Loctite adhesives save you time and money.
This powerhouse is responsible for grooming ski slopes at night when others are enjoying their après-ski. It operates in temperatures around 30 degrees below freezing on slopes that can be more than 45 degrees steep and for this performance it relies on Loctite engineering adhesives to secure components and seal hydraulics.
Although such extremes are not the norm in the UK, for any enterprise reliant upon plant and machinery for the smooth running of their business, the winter months bring additional risk. Mechanical failure costs time and money; dismantling and overhaul, overtime, hire of temporary plant, replacement parts - or in the worst case, the machine itself – and loss of profits. Far better to avoid failure right from the start through preventative maintenance with MRO adhesive products that are truly fit for purpose.
Be Prepared for Winter Maintenance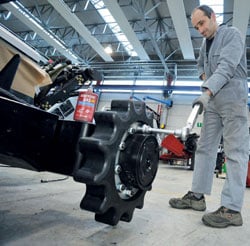 Continuous development of the core Loctite anaerobic adhesive range has led to two important benefits that are especially relevant to winter maintenance. Products are not only tolerant of higher and lower ambient temperatures, they are also rated for a wider range of operating temperatures too. Additionally, they are becoming much more tolerant of contaminants which saves on preparation time and extends their scope of application.
System leaks are one of the most common problems in winter, whether associated with water systems or hot air blowers or, in the case of the Beast, hydraulic systems that drive the tracks, blades and tilters. To instantly seal hoses, the Beast's manufacturer chooses Loctite pipe and thread sealing adhesives that seal to burst strength and withstand temperatures way below zero. Loctite has emergency pipe repair covered too with a range of products that provide a robust fix before a permanent re-fit can be scheduled.
Retain and Lock-in Efficiency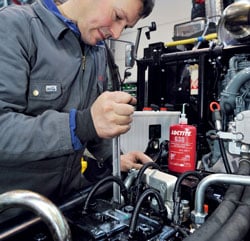 Resistance to dynamic, axial and radial loads makes Loctite retaining compounds the perfect choice for The Beast because they can be used on a variety of different materials and create an extremely strong bond. For example, they are used to retain ice studs and aluminium track blades. They are also the perfect choice for all problems associated with loose bearings on shafts, worn housing and fretting corrosion. And when used on keyed or splined assembly these adhesives make them stronger and prevent backlash.
Pumps, motors and gearboxes all have to work harder in the winter months which means they are even more prone to self-loosening. Loctite thread locking products are therefore essential to any toolbox at this time of year as they secure against vibration and shock loads. A typical application of these products on the The Beast is on M20 bolts tightened to 365Nm to secure the track-drive wheel but they can be used on any threaded fasteners as well as preventing seizing to nuts, bolts and studs.
Disassembly in cold weather conditions can be particularly difficult so Loctite Anti-Seize is also worthy of mention here. Both copper-based and copper-free formulations are included in the range as well as a brand new anti-seize product in convenient stick form.
Keep Running in the Worst Conditions
Equipment maintenance is all about being prepared for the worst, to keep plant running even if the application is arduous and the weather conditions are hostile. The makers of the Beast do this by ensuring their product is designed and manufactured to be reliable in sub-zero temperatures but the same sentiment is equally appropriate in the maintenance world too. Choose products that are proven to work optimally in all seasons. That way you'll avoid disaster and ensure equipment works more efficiently, consumes less energy and lasts longer.
For more information contact your local ERIKS Service Centre on 0845 006 6000.
Related Posts