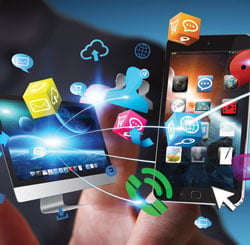 …the tough go shopping, as the carrier bag slogan has it. But never mind what the tough do. What the really clever do is switch to eProcurement. Research shows it delivers the kind of ROI that needs a wheelbarrow to take it away, not just a carrier bag.
Figures from an Aberdeen Group study in 2014 show that companies which shift their sourcing, ordering, payment and management of procurement to electronic processes via the internet, experience a huge range of benefits.
These not only include cost savings on purchases and reduced prices for spend brought back onto contract, but also requisition-to-order cycles and requisition-to order costs both cut at least in half.
The time savings and efficiency improvements realised with eProcurement can even have effects on the factory floor. Almost a quarter of the companies surveyed by the Aberdeen Group reported that they had made the move to eProcurement to help them lower their actual production costs.
Shop 'til you drop
One reason for these efficiencies across the board is that eProcurement makes the best use of people's time.
ERIKS' figures show that – using traditional procurement methods – as much as 65% of resource can be dedicated to controlling just 10% of all purchases. Similarly, half of an engineer's time can be wasted on non-core tasks – which include trying to get hold of the parts they need.
The possibilities for "maverick" ordering with traditional procurement methods can mean shortages of essential MRO parts, while overstocks of parts nobody needs and obsolete items pile up the storage costs. However, changing to eProcurement can make purchasing quicker, easier, more efficient and more accurate.
Around a third of businesses that took part in a survey on the "Impact of B2B E-procurement Systems" by academics at the Universities of North Carolina and Illinois1, reported that purchasing errors were reduced by almost half, and there was a similar-sized reduction in maverick purchases. eProcurement not only helps ensure product purchasing is firmly under the control of the right people. It's also a quicker and easier way to source supplies, so it gives those people more time to concentrate on finding the right products for the job at the right price – instead of wasting time on processes and paperwork.
From product to purchase to payment
The respected materialsmanagement.info website put together the table below, showing the time differences at every step of the procurement process.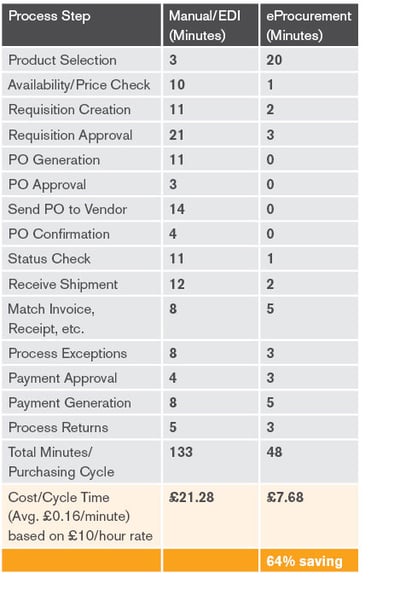 As you can see, less time is spent on product selection using manual or EDI processes. If you know there's a mountain of paperwork and other tasks ahead of you, you're going to selects as quickly as you can. Which might explain the high error rate of purchases.
However, from then on throughout the entire process, every single step is faster using eProcurement – and in many cases significantly so.
The end result, based on a £10/hour rate for the personnel involved in the procurement process, is staggering. For a typical product purchase, eProcurement provides a massive cost/cycle time saving of £16.32 – a 78% reduction over the manual process. When preferred vendor discounts are also taken into account (because a typical eProcurement system greatly increases preferred vendor transactions), there are even more cost savings to be had.
All of which means that, if you're still using traditional procurement methods, it could be time to shop around for an eProcurement solution
Related Posts