All too often, a decision is made to carry out an in-house repair to a process gearbox in the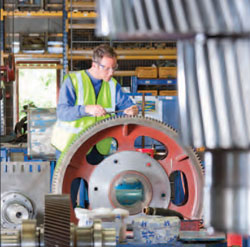 mistaken belief it will save money. The reality is often very different.
Compared with replacing or upgrading – with their long lead times, difficult modifications or higher initial costs – a repair is often a sensible decision. But problems arise, and costs rise, when you decide to choose in-house repairs rather than sub-contracting to a third party.
Because there's not just one cost to consider, but four.
Count the cost
The four separate costs you face are the cost of:
1. Lost production
2. Removing the equipment from the line or process, and subsequently replacing it
3. The actual repair
4. Engineers being unavailable to tend to other parts of the plant, while they are making
repairs that could be sub-contracted (opportunity cost).
When you take any or all of these into account, then the longer that plant can run between maintenance intervals, the less the total downtime cost per year of production. And when your gearbox repairs are entrusted to an expert refurbishment house, then the life of the refurbished gearbox will almost certainly be extended and that total cost reduced.
ERIKS' Core Competence Centre (CCC) – Gearbox Maintenance and Repairs, is just such a refurbishment specialist. Our close relationships with process gearbox manufacturers, and our many years of experience and know-how, enable us to provide a dedicated, 24-hour, quick response unit, capable of rebuilding gearboxes to precise manufacturers' specifications, backed by fully-guaranteed workmanship.
Assess the savings
Decades of experience in gearbox engineering enable ERIKS to offer you the complete gearbox service package, dedicated to keeping your machines or plant on the move – and to saving you money.
Our fully equipped Core Competence Centre – Gearbox Maintenance and Repairs, undertakes the repair of all leading types and styles of industrial gearboxes. And we use only genuine parts from manufacturers such as:
David Brown
Renold
SEW
Flender
Fenner and many others.
Your gearbox can be returned fully repaired, serviced and tested within days as standard, or even on the same day if required (all subject to work requirements and inspection). In addition, every fully-overhauled gearbox carries a twelve-month guarantee, for your complete peace of mind.
Before any work is begun:
One of our skilled engineers undertakes a full inspection
A full written and photographic assessment of work required is provide
You decide whether the work is economically viable for your business.
If you decide a repair is uneconomical, we carry an extensive range of replacement drive products at our CCC Drives facility in the West Midlands, and can also quickly access products from our extensive supplier base.
The Overhaul Alternative
Another option for your gearbox is our reconditioning and overhaul service. We handle gearboxes of any age and any size, and can even rebuild obsolete designs to meet the manufacturer's original specifications.
Prior to refurbishment, all units are stripped, examined and written-up in a detailed report for customer approval before the overhaul begins.
This may include replacement of worn or broken gears, bearings, seals or shafts. We can also uprate and modify designs to suit specialist applications. Then all units are reassembled and repaired to ensure they return to the customer in "as new" condition.
Lastly, ERIKS can supply new, purpose-made gearboxes, complete drive installations or open drives, or simply uprate an existing gearbox.
Whatever the ideal solution for your needs, we can provide it economically, efficiently, and when and where you need it Click on the cover below to download a copy of our Complete Gearbox Solution Brochure.
Or simply call any ERIKS service centre for more details and support.
Related Posts: