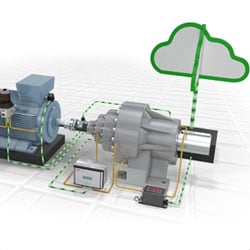 If you still think of Condition Monitoring (CM) as something for expert, on-site engineers only, it's time to broaden your viewpoint. In fact, it's time to look up to the cloud and think global.
As Dr. Steve Lacey, Technology Centre Manager at Schaeffler UK, explains, with cloud-based CM systems, experts can be anywhere. For improved fault diagnosis, faster reaction times and reduced machine downtime, all you have to do is share your data with them.

Critical components

CM is an integral part of Predictive Maintenance, which can help to prevent unexpected failures. Rolling bearings are critical components used extensively in many types of rotating plant and equipment. If they fail unexpectedly, the result can be high repair and replacement costs. Measuring vibration is one of the most widely used CM
techniques for detecting and diagnosing equipment faults.

Until now, most CM systems have been local, collecting vibration data from machines and using analysis algorithms and a rolling bearing database to check for signs of wear, defects or other unusual behaviour. Imagine the added value of being able to share and compare your local machine condition data, via the cloud, with similar items of equipment across your plant or across your business, anywhere in the world.

And instead of having to rely on the local knowledge and experience of a skilled maintenance technician, a cloud-based CM system can provide a direct link to a specialist in vibration analysis, working for a bearing or CM system supplier.

Schaeffler will be offering these cloud-based CM systems from mid-2017."

Reliable diagnosis

CM systems with a direct link to the cloud can transfer data from systems and devices. Automated diagnosis signals are processed from the raw data (from the CM system and the machine's control system, for example), so vibration data is not only processed in the CM system itself, but also in the cloud.
This means more processing power and more analysis options, which makes the diagnosis provided to the customer more reliable than ever.

For highly critical applications, users may also have the option of directly contacting the CM system supplier, via the cloud, for expert vibration diagnosis."

Easy installation

The latest CM systems are quick and easy to install and set up, and users need no specific skills or knowledge of vibration diagnosis.

"When changes occur in the condition of the equipment, the CM system automatically displays plain text messages, giving clear instructions for action and enabling corrective maintenance work to be undertaken and replacement parts to be ordered if required. These 'automatic fault assessment' systems are truly ground-breaking – helping minimise the skills, knowledge and experience that maintenance staff or equipment operators need.

With ready-to-use, pre-set measurement configurations, these CM systems can identify and display the main causes of faults: bearing damage, imbalance, friction/cavitation (for centrifugal pumps) and temperature increases. If general changes in vibration patterns can't be clearly attributed to one of those, the system can use the cloud to ask for additional specialist analysis.

CM out of the box

The latest innovation from Schaeffler is a ready-to-use, pre-configured condition monitoring system which can be commissioned in only five minutes, and operated without any vibration monitoring expertise. The FAG SmartQB automatically assesses changes in the condition of the equipment, then generates informative messages on its display.

Designed to monitor the condition of electric motors, pumps, fans, compressors and gearboxes with fixed or variable speeds from 100-15,000 rpm, which are supported by rolling bearings, the FAG SmartQB comprises a sensor unit, touchscreen display, and Power-over-Ethernet cable.

Supplied with pre-set measurement configurations, the unit can identify the most common fault causes, and changes in vibration patterns that can't be definitely attributed. The text messages on the display give clear instructions for action, so users can undertake corrective maintenance and order replacement parts if required.

If the cause of the vibration signal can't be automatically identified, the system displays a recommendation to send the data to Schaeffler's technical support centre for in-depth analysis.

Up to six sensors allocated to several machines, individual machine components or sub-assemblies can be connected to one FAG SmartQB. Once installed and set up with the details of the component(s), the FAG SmartQB automatically selects the best measurement configuration, and is ready for automatic learning mode, which enables it to automatically adjust alarm thresholds. From then on, the relevant machine parameters are constantly measured and saved, creating a substantial database.
Related Posts