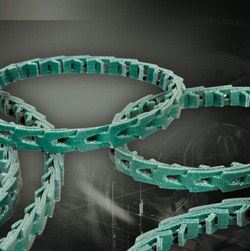 …You need the Fenner® QuickFix emergency breakdown drive belt. Designed to fit V- and wedge-belt profiles, and quick and easy to install, it saves time and money – and gets production back up and running, fast.
Instead of carrying extensive, expensive stocks of every type and size of belt, ready to replace a breakage, you can now stock Fenner QuickFix belts. Supplied in convenient five metre rolls which can be cut to length on site by the maintenance team, they will rescue any belt emergency breakdown situation.
The QuickFix has a dual groove profile so it can be used to replace V- and wedge-belts, and is available in SPZ, SPA, SPB and SPC width profiles. It also has a jointed link design, which saves time on installation by minimising strip-down of the unit before fitting.
Enabling a quick, short-term repair, Fenner QuickFix keeps downtime to a minimum. And keeps production going until delivery of a replacement original Fenner rubber belt.
For more information on the Fenner QuickFix emergency belt, please visit: www.fptgroup.com.
Related Posts