Thermal imaging is getting more affordable and even smarter and is now one of the primary methods for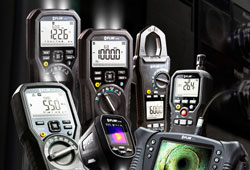 electro-mechanical condition monitoring. Numerous hardware and software advances have contributed to the growing popularity of this versatile technology but FLIR is responsible for the latest game-changer.
It's called multi-spectral imaging - MSX® - and now a standard feature on almost all models in the FLIR range of thermal imaging cameras from ERIKS.
Richer Detail
The ability to share thermal images with others involved in the maintenance process is one of the big benefits of the technology. However, a thermal image alone is not always sufficient to help all parties understand what they are seeing.
A visual image is therefore often taken to put the thermal image into context and, for this purpose, many models now have digital camera capability too.
FLIR has taken this concept one stage further and introduced its patented, MSX® technology. Its roots are in the high-end application of thermal imaging in science but FLIR has now applied this knowledge to the industrial field too.
MSX® instantaneously generates a definitive, all-in-one thermal picture that provides as much detail as possible to make a quick diagnosis of a problem, whether the image appears on the camera's touch screen, on a pc, a mobile device, a smartphone or in a written report.
With the FLIR format, the thermal, visual and MSX® images are saved simultaneously with a single click of a button.
No Need for a Visual
Key details apparent to the naked eye – such as numbers, labels, signage and structural features – can easily get lost in a regular thermal image which only displays heat signatures. Areas displaying small temperature differences are often hazy as a result as the colour contrast is minimal.
To overcome this limitation, a corresponding visual has provided the detail, but with MSX® this need is negated. Look at the following thermal image of a motor and how MSX® makes the motor number clearly legible.
| | |
| --- | --- |
| | |
| Without MSX | With MSX |
FLIR thermal imaging cameras can blend, overlay or fuse a portion of the thermal image into a visible light picture but MSX® is a completely different and complementary technology. It captures visual data from the built-in digital camera and radiometric data from the thermal camera.
Internal software then analyses the image and superimposes key elements from the visual image as a high-contrast 'skeleton' on the thermal output. This all happens in real time and without compromising temperature measurement, accuracy or minimising visibility.
The result is an image showing unprecedented detail. Orientation of the target is easy, reports are clutter-free and all these elements contribute to fast and more efficient inspection. And, in turn, this has real impact on your customers' overall plant efficiency and the costs of operation.
More information on ERIKS Condition Monitoring expertise:
Related Posts: