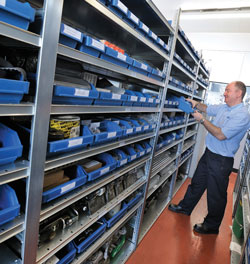 What are these engineers and maintenance personnel talking about? Redundancies? Factory closures? Management crises?
Nothing as dramatic as that.
They're simply describing their organisations' factory stores, in a major new survey by ERIKS and the Institution of Engineering and Technology (IET) Click to download

The survey gave them, and storeroom personnel, the chance to report anonymously on how their factory stores were managed – or not – and run from day to day.
The shocking results show that what's going wrong in storerooms throughout the country reverberates right across the organisations they're supposed to serve, resulting in wasted time and money, inefficiency and lost production.
Trouble in Store
When a storeroom is inefficiently organised and run, engineers who should be maintaining and fixing machinery waste their time searching catalogues for the parts they need to make their repairs. The procurement function wastes time worrying about out-of-control expenditure on "spares and consumables". And meanwhile, whoever is in charge of storeroom management is caught in the middle, fighting a losing battle and trying to juggle:
Managing suppliers

Providing technical support

Managing inventory

P

erforming stock-takes

Serving behind the counter.
If, of course, there even is a storeroom manager taking responsibility. The survey shows that, all too often, storeroom management is split between several different areas of the organisation, with no-one taking overall operational responsibility.
No wonder that stock is poorly managed, ordering is badly co-ordinated, costs spiral out of control, and the necessary parts are either over-ordered – wasting money, space and time – or not in stock at all: wasting even more time and potentially leading to expensive downtime of machinery and production.
A Necessary Evil?
The ERIKS / IET research paper based on their survey is entitled: Factory stores – manufacturing's necessary evil.
That's because every manufacturing site, large or small, has to have one. But in too many organisations, they are a force for "evil" – in the shape of inefficiency and unnecessary costs. However, managed effectively – or as the subtitle of the report puts it: Balancing productivity, inventory and management responsibility – they can actually be a force for good: not simply more efficient, but actually transformed from a cost centre to a profit centre.
The trick is identifying where the failings lie, and then knowing the best way to deal with them.
Specialist Solutions
Spares and parts sourcing is becoming such a complex task, it demands specialist skills and dedicated resources.
These are not always available in-house, but they can be easily and effectively outsourced. ERIKS Storeroom Services, for example, can provide a range of services to help make your storeroom more efficient: from a basic service such as identifying, supplying and installing the most effective storage media for your needs, to a complete storeroom transformation.
You can read case studies of the successes of ERIKS Storeroom Services in the ERIKS / IET research paper, as well as discovering:
The amount of time wasted in sourcing or locating parts

The stock access solution that slashes spending and

How an MRO supplier can save you money on parts.
To find out more, and to see the full survey results, download your copy of the ERIKS/IET research paper now. Simply click below:
Related Posts: