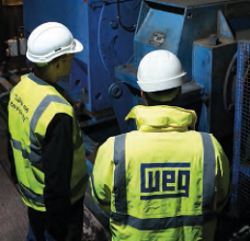 Sometimes, it's not the output voltage, torque, speed or even the cost of a motor which determines a customer's choice. It's simply whether or not it fits.
That was the main concern for Sims Metal Management when they asked WEG to supply a new HV Motor for their metal recycling plant in Newport, Wales.
Maintaining operational efficiency – and minimising downtime – are key concerns for Sims, who can process up to 1,200 tonnes of scrap metal every single day at their Newport site. The metal is brought in by several regular customers as well as members of the public, and can include a huge variety of items.
For example, the company provides a recycling service for cars and other vehicles at the end of their life, and processes industrial scrap, domestic appliances and non-ferrous materials too. Once processed, the metal goes by rail from the site to various iron and steel works in the UK and abroad. In fact, around 2.5 million tonnes of metal is exported by Sims every year, with approximately 60% going to South East Asia.
With such large quantities of material to handle, it's essential to keep the process operating at full capacity, which means minimising downtime for machine maintenance or replacement, and maximising reliability.
Space, the Final Frontier
When one of their motors recently needed replacing, Sims decided that one of the easiest ways to reduce downtime for the changeover would be to ensure the new motor fitted the footprint of the existing one.
By ensuring it occupied exactly the same space, installation would be speeded up, and the Sims team would be able to quickly complete testing and commissioning, and get the motor back on-stream as soon as possible.
The company did first consider other options – such as a new OEM unit or a motor repair – but in the end, the most cost-effective solution was for a new, bespoke, high voltage motor from WEG. As electrical engineer Wayne Oscroft of Sims' Northern Region explained: "The experience of previously working with WEG, combined with their reputation, gave us the confidence to place another order with them."
Showing Their Mettle
WEG's previous experience with Sims involved the supply of no fewer than 11 high voltage motors to power the company's giant shredders.
These machines are fed by an inclined conveyor which transports everything received at the recycling sites – regardless of the material it contains – into the shredder. Here, rapidly spinning hammers tear it to pieces, and the fragments that result are then sorted into different categories. All ferrous material which is separated out is sold back to the metals industry for melting down and re-using.
Clearly, this is a harsh and demanding environment for any equipment to operate in, and the requirement for maximum reliability to provide continuous operation makes it even tougher for the motor which drives the shredder. However WEG's experience reassured Sims that they could rely on them to deliver, despite the difficulties of designing and engineering the new motor to fit precisely into the existing footprint.
Measuring Up
WEG's engineers recommended a WEG 'M' Line motor to fit the bill – and the footprint.
Designed for larger applications in an output range of up to 20MW and a voltage range up to 13,800V, 'M' Line motors are also built to be tough. For starters, the motor has a design which provides excellent structural strength with low levels of vibration and noise. Then it is engineered from robust cast iron or welded steel plate, to ensure it can take whatever the application throws at it.
For exceptional flexibility of installation, 'M' Line motors offer eight different methods of cooling, so customers can choose the one which best fits the constraints of their particular application.
In this particular case, WEG engineers visited Sims' Newport site to assess the required location, and take highly accurate measurements from the existing machine. This included precise dimensions of the drive shaft, as well as the positioning of the motor's fixing points. The new 'M' Line motor was then designed with a casing which exactly matched up to the old motor's in every respect.
Fast, Fitted, Efficient
Once all the necessary measurements had been taken for the WEG design team, design and engineering of the new motor was quick and efficient, and it was soon delivered to the Sims' site, ready for installation without any additional engineering required to fit the footprint.
Even allowing for testing and commissioning, the result was a minimal break in production before the new 6.6kV. 3MW motor was up and running, efficiently and reliably.
"The new motor was installed by our engineers without any problems," said Wayne Oscroft," and it has been performing at more than 95% efficiency, which is excellent for this size of motor."
So whether you need a motor which fits an existing footprint, fits a budget, or which you can simply rely on for its performance and efficiency, you can be sure there's a WEG motor that's fit for purpose.
Related Posts: