There aren't many people in industry who haven't used or heard of WD-40 Multi-Use Product at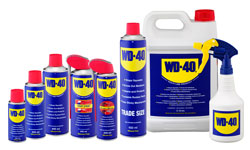 some point in their careers to care for their tools & equipment or solve a problem.
More than 60 years on from the creation of the famous formula we look at how the product still remains relevant & continues to dependably serve industry.
WD-40 Multi-Use Product, aka the famous blue and yellow can is one of the most unusual products used in industry.
It is sometimes referred to as 'being in as many households as coca cola,' yet it still has a large appeal with professional technicians and service engineers today. Understanding this wide spectrum of use in industry helps the WD-40 Company learn more from the engineers and technicians using the products and contributes to the continual assessment of the formula's and their performance.
Because the formula simply works, it doesn't mean that the formula works simply.
WD-40 Multi-Use Product is a technical solution which was originally developed for use by NASA, during it's participation in the space race so its heritage of performance at the highest level in industry is actually more than 60 years old.
Ongoing Development
It's dependability and relevance remain a paramount area of focus today. The technical R & D staff monitor the key formula performance area's to understand how they best deliver against user expectations. These are constantly being investigated, and whilst the formula itself remains a secret known only to a handful of people across the world. New lubricant technology means that the environment and the user is also a paramount consideration to all of the formulas that the WD-40 Company produce. The formula is now shipped to industry in a variety of ways ranging from the famous blue and yellow aerosol cans through to industrial size 200Litre drums depending on your plant requirements.
WD-40 Multi-Use Product is still the maintenance spray of choice for good reason, helping to keep plant efficiency and operating costs down whilst solving problems along the way.
WD-40 Multi-Use Product stops squeaks and noise, it is designed to drive out water, it cleans and protects equipment exposed to the elements, preventing corrosion. It leaves a protective coating with a dielectric strength of ~38kV, and it penetrates to loosen rusted, seized parts. That's still a lot of tasks faced by technicians and engineering staff today taken care of from one quick convenient application of WD-40 Multi-Use Product.

For help and support contact your local ERIKS service centre on 0845 006 6000.
Related Posts:
Less is more with RX maintenance sprays