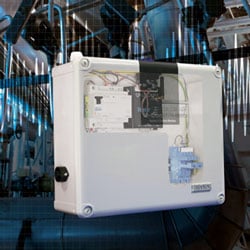 The more data you gather from monitoring your critical assets, the more you can learn about their condition, behaviour and performance. And the more you know about those, the more time and money you can save on maintenance and repairs, and the more you can reduce downtime and increase uptime. So what's the most effective way to keep tabs on your assets?
Some Condition Monitoring (CM) companies do nothing more than monitor. Asking them for advice on optimising the performance of an asset is like asking the electricity meter reader to tell you how to get your toast more evenly browned in your toaster.

Others may be able to offer generic advice, but nothing which addresses your specific equipment and unique processes.
What you need is CM supported by information and advice from people who have experience of your industry, understand your processes, and appreciate the individual nature of your equipment and applications. And even before you start to gather and analyse the data, you need people with the necessary skills to identify what you should be monitoring, and how to monitor it most effectively.

Do you speak data?

The data gathered from Condition Monitoring is another language, which needs careful interpretation.

Take the recent example of a short, sharp peak in vibration from an asset, which triggered an alert to ERIKS' 24/7 e-Connect Condition Monitoring (CM) team.

As an experienced CM provider, they identified that the peak was infrequent, isolated, and caused no lasting damage. So they decided there was no need to shut down the equipment or replace components.

A less experienced CM provider would have instantly identified the vibration peak as a critical issue requiring a change of bearings and seals. The result would have been extensive downtime, lost production, repair costs – and the apparent elimination of the vibration peak. Until the next time a forklift bumped into the machine.

A less experienced provider would also find it harder to identify what should be monitored in the first place.

With over 40 years' CM experience – in processes from car presses to chocolate extrusion, and water treatment to jet engine manufacturing – ERIKS can not only interpret the data and understand its significance. They also know precisely where to place sensors to gather the data which will provide the most effective early warning of failure.

Tailor-made monitoring

There are five versions of the ERIKS e-Connect monitoring system, each one extendable as required. In addition, ERIKS use their industry, process and engineering expertise to adapt each version to each customer's specific requirements. Because ERIKS know how machines fail, they know how to monitor them for the most timely and relevant data.

Log and Alert; e-Connect Series 1

Providing data logging and alerts from up to 4 analogue sensors. This system wakes up to test and send periodic text reports, and alarms when required, then returns to sleep mode. Battery powered.

Status Monitoring; e-Connect Series 2

A 3G or 4G connected version ideal for process plant rooms and similar situations. Permanently powered, it continually monitors the state of devices (on or off; duty, standby or tripped?) and sends alerts by text or email. A web-viewer is also available.

Trending; e-Connect Series 3

A permanently-powered version which connects to most analogue or BUS output sensors. As well as monitoring values and sending text or email alerts when a threshold is triggered, this version provides trending information over time. It includes a web-viewer and offers two-way communication – enabling remote system control.

Diagnostics; e-Connect Series 4

As Series 3, with the addition of local algorithms (for multi-dimensional alarms) and local history storage.

Prognosis; e-Connect Series 5

As Series 3. Also includes storage of full analytical data on the cloud. Enables data overlay from various machines and makes high-end analytical techniques possible.

From monitoring to maintenance

Effective monitoring and expert data interpretation are still only part of the story.

If equipment maintenance, repair or replacement is identified as necessary from the data gathered, then timely action is required.

ERIKS' capabilities across the whole spectrum – from CM to parts supply and installation – and across flow, rotation and mechanical processes, enable them to provide a comprehensive, time saving service.

It saves customers time through better parts availability, better-scheduled maintenance and – one of the cornerstones of Industry 4.0 – through greater equipment reliability.
Related Posts