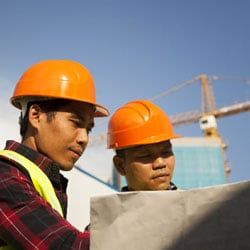 A team of young professionals from ERIKS are participating in a government backed Dutch challenge called 'De Partnership Verkiezing'. Our team have been working on a business case to solve the challenge of unsafe working conditions in Vietnam, where 5000 people die due to unsafe working conditions every year.
ERIKS has the know-how and the products to help solve this problem, but it's not just about tools. Safety is in people's hands, but also in people's minds. Young professionals from ERIKS developed a business case for designing a serious safety gaming app to change the attitude and behaviour of workers.
The 'De Partnership Verkiezing' is a government backed Dutch challenge encouraging teams of young professionals to come up with an innovative idea related to their business which creates a positive social or environmental impact, and then compete with other teams to pitch their ideas as a business case.
The final event of the challenge is on May 11th 2017, and a winner will be announced based on a judgement by a jury and public votes.
Your vote can makes a difference: help us create safe working conditions and save lives.
CLICK HERE to vote for the ERIKS team.
Voting is open until May 10th 2017 – and don't stop there, share this and ask your colleagues, friends and family to give ERIKS a vote too.
Related Posts