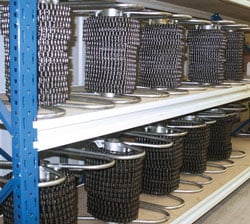 A valuable part of ERIKS' services is the supply of chain to its customers, from ERIKS Service Centres. These Service Centres are themselves, in turn, linked to Tomax – an ERIKS company and a leading provider of industrial chain.
Based in the Midlands, Tomax provides a 24/7 nationwide service, supplying transmission and roller chain and leaf chain for forklift trucks. All these types of chain are held in stock, for faster fulfilment of orders. For urgent requirements, both next day and same day delivery are available.
A wide range of chain sizes and pitches is stocked, from small 8mm pitch to 1½" pitch. Any of these chains can be cut and packed to suit customer requirements.
For customers with a specialist requirement – for chain suitable for aggressive environments – Tomax also offers an anti-corrosion product in a range of sizes and pitches.
In addition, ERIKS On-Site Solutions based at the Ford Motor Company depends on Tomax as its main supplier of replacement fork lift spare parts and chain for all their fork lift requirements.
Related Posts