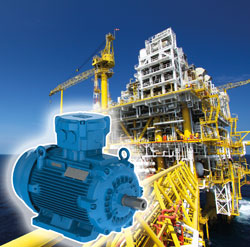 Oil and gas fields usually rely largely on natural pressure to help the extraction process. But as fields become depleted and the natural pressure begins to fade, extraction becomes more difficult. Engineers working in Oman approached WEG for help in enhancing their gas recovery, with bespoke variable speed drive systems.
Boosting extraction from their depleting reserves is part of a US$33 billion project aimed at enhancing Oman's hydrocarbon production capabilities, and helping the country to broaden its economic base - unlocking about one trillion cubic metres of natural gas over the next 25 years, providing a long-term competitive feedstock for its petrochemical industry.
Plans are also in hand to develop downstream industries producing ethylene dichloride, caustic soda and other chemicals.
As part of this major effort, US$550 million is being invested in a depletion project. A daily gas production capacity of 30 million cubic metres will be developed, to be fed to the existing central processing facility.
To increase the pressure and keep the gas flowing, extra compressors are being installed. WEG electric motors will play a key role.
Efficiency and Endurance
Motors are the largest individual source of energy use, accounting for 45% of the world's electricity consumption. Over half of this energy demand originates from motors used in fans and compressors, so it was essential for this project to make the drive system for the main gas compressor as efficient as possible, and able to endure the most demanding applications.
"WEG has exceptional experience of developing complete drive solutions for oil and gas applications".
With that requirement in mind, Indian company Larsen & Toubro decided to partner WEG for this project.
WEG's bespoke solution is forty-eight 30kW variable speed drives and motors, and thirty-two 15kW drives and motors. These will be supplied as systems, and mounted in control cabinets. The systems will also include a high-capacity circuit breaker for emergency cut- outs, and a bypass system for direct-on-line starting.
WEG has also fitted its equipment with a passive input harmonic filter. This will reduce problems relating to mains-borne corruption of the power supply, while an output filter will be used to protect the drive.
Testing and Training – Worldwide
The variable speed drive systems have been tested at WEG's manufacturing facility in Brazil, under the scrutiny of inspectors from PDO and Larsen & Toubro. The testing simulated the harsh environmental and operating conditions that may occur in the field.
Performance tests of the motors are being conducted at the fan manufacturer's plant in Korea, and training sessions for PDO staff have been organised in the Brazilian factory. WEG's vertical manufacturing process has enabled the company to supply Larsen & Toubro with all the overloads, switchgear, relays and pushbuttons used in the drive cabinets. This not only ensures component compatibility and trouble-free system building and commissioning, but also efficient ordering and delivery.
Other elements in the cabinet include a control power transformer, auxiliary contactors and circuit breakers. Additionally, a door-mounted control panel incorporates a backlit LCD keypad, while a redundant serial link (2 channels Modbus-RTU over RS485) provides communication to the wider control system. Lastly, the control cabinets include space heaters, which are essential given the extreme temperature differences between day and night in the Oman desert, which can cause potentially damaging condensation.
40% Cost Reduction
The W22Xd IE4 Super Premium motor, is the most energyefficient flameproof motor available, and combines explosion protection with IE4 efficiency levels. Its long service life and low maintenance costs also help businesses in the process industry increase productivity, improve reliability, and cut costs – by up to 40% compared with conventional models.
WEG drives minimise voltage surges by carefully regulating the time between the pulses of their integrated gate bipolar transistors. This decreases the possible surge magnitude, and allows longer cable runs with no negative effect on the motor insulation. Patented flux optimising technology produces lower and fewer peak voltages at the motor terminals, which decreases motor temperature rise by as much as 11%. The result is extended insulation – and therefore motor – life, because it is doubled for every 10°C decrease in operating temperature.
Perfect Solution
Colin Cox, Managing Director, WEG Middle East, pointed out that WEG has "exceptional experience of developing complete drive solutions for oil and gas applications – both upstream and downstream. Our involvement in such a major project as the PDO Saih Rawl Field is a fine example of our commitment to help the industry operate more efficiently and reliably".
"Our high performance drive and motor architecture make WEG products the perfect solution for the most arduous industrial applications, as are likely to be found in Oman's PDO Saih Rawl Field Depletion Project. We can provide the ideal explosionproof motor for virtually every application, even with extreme operating conditions such as ambient temperatures from -55°C to +80°C and altitudes up to 5,000m."
The WEG W22X range of ATEX certified electric motors and WEG variable speed drives are available in the UK from WEG's European distributor and service partner ERIKS UK.
Related Posts