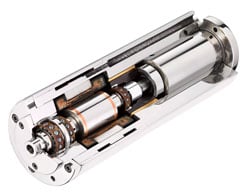 NTN-SNR is investing nearly 7.6 million euros in its plant in Mettmann (Germany) to manufacture its first premium range of spindle bearings for machine tools, starting in 2017. A first in Europe.
Japan will no longer be the only country producing the ULTAGE Super Precision range. NTN-SNR is adapting its plant in Mettman, Germany, to produce its premium range of spindle bearings for machine tools starting in 2017.
These bearings are the fruit of NTN's historic expertise "Setting up industrial facilities in Europe will allow us to handle the demands of the local market more
efficiently," said Francis Travostino, Head of NTN-SNR's Spindle 2017 Project.
The plant will produce the entire range of universal bearing models and NTN-SNR will be able to deliver specific assemblies with a maximum of two to three weeks. "By reducing our importation times from Japan, we will be able to offer the responsiveness expected by aftermarket players – distributors or repair services – and OEM – spindle, machine-tool or rotary tool manufacturers," he added.
The ULTAGE production unit, currently under construction, will cover 1,500 m2 within the Mettmann plant. Upon completion, two production lines will be deployed: the first will be dedicated to small bearings – with a maximum outside diameter of 110 mm, and the second will be for large-size bearings
– with a maximum outside diameter of 280 mm. All of the references will be assembled on a single assembly and inspection line. As with the ULTAGE facility in Japan, production crews will operate in three air-conditioned and pressure-controlled areas depending on the operation – production, measurement, assembly or inspection of rings and bearings.
"An ultra-modern production environment for the laboratory clean rooms," stated Francis Travostino. NTN-SNR is investing 7.6 million euros in the construction of this jewel of industrial technology.
Once launched, the unit will produce over a hundred basic references. In the long term, the progressive increase in production will ultimately allow the unit to manufacture the 340 basic references covering the entire range of ULTAGE Super Precision bearings.
The product range includes more than 4,000 "variants", depending on the combinations chosen.
The Key Advantages of ULTAGE Super Precision
The products in the range – angular-contact ball bearings – bring together all the characteristics of NTN's ULTAGE quality label: steel cleanliness, heat treatment, optimised design, production environment with a high degree of cleanliness, and strict control of suppliers. They offer a high axial load capacity and withstand high rotation speeds (up to 1.9 million N.Dm). They feature an innovative polyamide cage, the prof ile of which optimises lubricant circulation and retention.
Related Posts