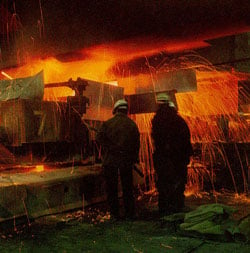 Uncertainty in the UK steel industry has been given a welcome boost following the US Navy's selection of Sheffield Forgemasters to build a number of key components for its new fleet of Columbia-class nuclear missile submarines.

Having had faced crisis in early 2016, the contract provides relief to one of the UK's key industries. Forgemasters will also relish the contract, having felt the effects of the oil price collapse on the supply chain for the offshore oil and gas markets.
The manufacturer, which has been in operation for over 200 years, has a long history of supplying castings to the defence industry, having been a long-standing supplier to the Royal Navy, as well as older US ships.
Graham Honeyman, Sheffield Forgemasers' chief executive, said: "These orders provide a boost for our operations as we work towards our business turnaround plan.
"Work has already started on these orders and the first parts will complete this year with another tranche of components anticipated to follow in 2017. These are complex components and require detailed modelling and manufacturing to highly specific tolerances."
Related Posts