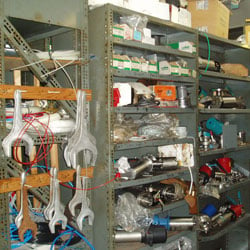 The UK has become synonymous with industrial excellence, driving forward a vast array of market sectors since the dawn of the industrial revolution nearly 250 years ago.
Yet despite the UK's industrial pedigree, a number of basic errors are creeping in, at crucial points in the supply chain, particularly when it comes to the state of the nation's storerooms.
In light of the findings from a new report on the subject, Andy Silver, Customer Services Director, at ERIKS UK, discusses some of the biggest issues affecting storeroom management across the UK industrial sector.
State of the Nation
Nobody can deny that UK industry is now amongst the most efficient in the world. A tight focus on cost-down measures has produced lean, competitive industries capable of competing, and winning, in globalised markets.
This mentality has filtered down the supply chain, with suppliers at all levels capable of delivering raw materials and components, just-in-time to be fed immediately onto the production line or into a process, reducing stock and working capital to a minimum.
However, even in the biggest and best industries, just away from the factory floor more often than not there is a room, or series of rooms, which is cluttered, seemingly badly managed (or not managed at all) and overloaded with stock.
The storeroom or 'factory stores' is all-too-often a black hole which sucks in stock, and is seemingly incapable of satisfying the demands of its stakeholders in other parts of the business.
Engineers, who should be on the factory floor fixing machinery, are reduced to leafing through catalogues, trying to find exactly what they need to repair vital equipment.
Procurement are pre-occupied with the often significant monthly expenditure on 'spares and consumables', but do not have the technical knowledge to ask difficult questions or put into operation an alternative which satisfies the demands of engineering.
In the middle of it all, sits the 'Storeroom Manager' desperately fighting a losing battle and expected, in turn, to manage suppliers, provide technical support, manage inventory, perform stock takes and serve behind a counter.
Man in the Middle
However, this 'Storeroom Manager' can often take the form of a number of individuals, many of whom have multiple responsibilities above and beyond the storeroom, and herein lies one of the chief issues affecting the smooth-running of the UK's industrial stores: mixed, or minimal responsibility.
ERIKS' recent report on the state of the nation's stores, Factory stores: manufacturing's necessary evil – Balancing productivity, inventory and management responsibility in UK factory storerooms'* found that less than a quarter (24%) of stores were managed by maintenance departments, whilst 30% declared that responsibility was split between production, maintenance and facilities management and a further 12% stated that no-one took charge of the storeroom.
As such, nearly half (42%) of those surveyed identified that the responsibility of their storeroom was not attributable to one department, let alone one individual 'Storeroom Manager'.
Taking Stock of the Situation
Given half (50.4%) of those surveyed had stock worth in excess of £250,000, worryingly, only 16% said they conducted a monthly stock-take. Raising even more cause for concern, over a third (38.5%) either did not know when their last stock take took place, or admitted to never taking one. Not knowing what's in your storeroom is one of the biggest drains on maintenance budgets, as this will lead to many items either becoming obsolete or duplicated.
A lack of consistency among stock-take procedures understandably links to another significant finding within the report: that over a third (36%) of respondents admitted it took over 30 minutes to find a part within their stores. Given the added time it would take to potentially stop a process, remove a faulty part and replace it with a new one, and then re-start the application, a minimum of 30 minutes extra downtime per part sourced is a significant drain on resource and detrimental to the overall productivity of the site.
Whilst the report also goes on to highlight worrying inconsistencies amongst the ordering and sourcing of replacement parts and stock, responsibility of restocking, and levels of storeroom access, there is a familiar theme which recurs: storerooms are rarely the responsibility of one department or individual, and as such, corners are being cut and bad practice is becoming commonplace.
The Necessary Evil
I often call factory stores a 'necessary evil'. In an ideal world, machines would never break down and parts would never be required. The reality, of course, is very different, and as evidenced by the report demonstrates that factory stores are not fully supporting the site's engineers.
However, it would be wrong to point the finger solely at the stores, without acknowledging the exceptionally difficult circumstances in which they operate. As mentioned, storerooms and inventory are all-too-often overlooked and not given the right tools, in terms of IT equipment for example, or external MRO supplier support, to do the job properly.
The vital link between engineering and stores is too often disrupted, which results in poor stores management and inventory control, with inevitable out of control spending on spares and wasted time – often due to engineers not knowing what is in the stores in the first place or not willing to wait around for what they need.
Final Thoughts
When I speak to senior managers, procurement people and engineers about stores management, they universally agree on the need to take control. But it is not so clear whether they want to take control of MRO stores themselves, the stock, the expenditure or the suppliers?
The truth is, to take control, you need to grip all four of them. UK manufacturers have to recognise that spares and parts sourcing is a complex job, which needs specialist skills and resource allocated to it. If those skills are not available in-house, then industry should consider outsourcing. What is striking about the results in this report is how few of our respondents' companies have undertaken this option. The desire to maintain control is trumping the desire for change.
The answer lies in better linkage between engineering and stores, in order that stores can become the engineer's toolbox and, in the words of one respondent, can be in a position to "predict the requirements of production."
The ability to 'predict' is central to store's operations. Factory stores should be dynamic, constantly assessing the needs and requirements of their engineering 'partners' and working to an agreed strategy. Only in this way can factory stores stop being a drain on resources, both financial and engineering, and truly support the wider business.
Download a copy here:
Related Posts