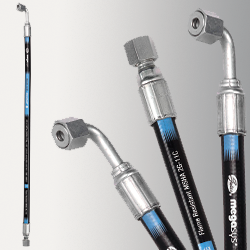 Next time you need a spiral wire hose, you can take your pick. Or at least you can take a sharp rock – and still expect the hose to survive intact. That's as long as you choose a hose protected by a Gates' XtraTuff or MegaTuff cover.

Gates XtraTuff is 25 times more abrasion resistant than a standard hydraulic hose cover, while Gates MegaTuff lasts up to 30 times longer than a standard hose in ISO 6945 hose-to-hose and hose-to-metal abrasion tests.
Up to six alternating layers of spiralled, high-tensile steel wire provide the protection. So whether you're working in a rugged mining environment, pulling a hose through a boom arm or across articulation points in utility loaders, Gates' hose can take it.
In sizes -6 to -24, and continuous lengths from 121ft to 200ft, the hoses are suitable for temperatures from -40°F to +250°F (-40°C to +121°C). Even the standard Gates EFG4K Spiral Wire House meets Flame Resistance Acceptance Designation MSHA 2G. And EFG4K-XTF and EFG5K-XTF exceed all performance requirements for SAE 100R12 and 100R13 respectively.
Related Posts