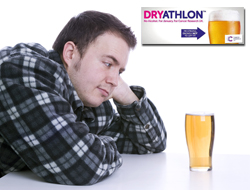 It's that time of year where you hang up your beer goggles and swap a lovely ice cold pint for a thirst quenching orange juice (other soft drinks are available) as we head into the baron month that is Dry January.
This year a number of determined ERIKS employees are participating in Cancer Research, help fund this great cause donating to their efforts, search for them on JustGiving to make your donation or give them cash directly – just be gentle with them, they may be tetchy.
To help ease the pain and suffering ERIKS have come up with 5 top tips to help January pass in a flash with not a drop of alcohol in sight:
Ban Weekend Outings – change your social ventures to nights within the week, this will save you from the temptation of that one glass of wine as you know you have to be up bright and early.
Super Saturdays – write a list of all the things you would like to do with your Saturdays, from days out to DIY, all the things you would like to do but were previously suffering from the dreaded hangover. In your fresh waking up state, get up and get going, you will feel a great sense of achievement!
Soft Drinks – make your soft drinks seem exciting and more celebratory than normal. Choose exotic looking drinks and put them in cocktail glasses, dress up with some sparklers and an umbrella whilst finishing with a slice of lemon. The options are endless!
Designated Driver Duty – off on a night out you just can't avoid? Offer to be the designated driver and look out for some offers in bars where designated drivers get their soft drinks for free. Saving money and avoiding the sore wincing head.
Money, Money, Money – create a money accumulator, each time you would have had a drink during the month, add the cost to the accumulator and see your savings grow.
So a big well done and lots of encouragement for the following people. Good luck!
Joni Thorpe, Kate Halstead, Michelle Middleton (ERIKS Sheffield), Carly Oliver, Sharon Johnson, Joanne Weldon (ERIKS Finance), Kavita Pnaiser (ERIKS Graduate), Mitchell Raymond (ERIKS Employee Services), Ian Richmond, Ron Walters (ERIKS Corporate Accounts), Alan Bolden, Simon Butler, Sean Hughes & Craig Simmonite (ERIKS Sheffield)
Keep up to date with our dryathletes on our