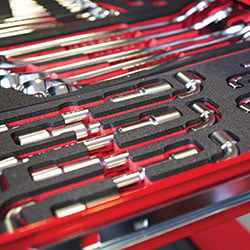 When it's an engineer.
It might not seem hard to spot the difference, but many manufacturers rely on engineers and operators to account for their own tools. It's a simple system of tool control, but it's hardly foolproof.

A busy engineer may put down a tool mid-job, get distracted and – if it's not one he needs to use again on that job – forget all about it. After a long shift even the most conscientious operator might make a mistake on a tool count. And when engineers start borrowing one another's tools, who can possibly know what tools are where?

The truth is, expecting people to keep track of their tools with a basic "count them all out; count them all in" system is open to error. Yet in many manufacturing environments, tool control is an increasingly important issue.

A spanner in the works
For most manufacturers, a tool in the production process, or in the product, is a catastrophe.
It's also something which many customers are no longer willing to leave to chance. Instead, they're putting increasing pressure on manufacturers to implement strict tool control measures in the production environment. If contamination by tools does occur, they also expect detailed and effective tracing of how and where the foreign object involved got into the process.
For manufacturers in highly-sensitive sectors such a food or pharmaceuticals, these kinds of controls and accountability are the norm for many kinds of foreign objects.
Now they're being seen as Best Practice for tools too.
A tool in the hand…
A tool is only useful when it's being used. But that's when the trouble starts.
Once the tool is out of the box, it becomes harder to keep tabs on without an effective tool control system. This can range from the relatively simple to the highly sophisticated, depending on your needs. But whichever is the case, it will help you ensure that tools always find their way back to where they should be.
A simple StanleyBlack&Decker visual system can make it impossible to overlook even the smallest missing tool.
A storage tray designed to fit a toolbox or tool bag, with clearly defined spaces for the tools to fit in, means it's easy to see if a tool is missing, and which tool it is. At the same time, the tray helps to keep the toolbox or bag tidy, and makes the tools more easily accessible for more efficient working.
A similar StanleyBlack&Decker visual system, though obviously on a larger scale, can also be utilised for a complete toolroom.
Tethered or tracked?
Tools that don't go anywhere can't go anywhere they shouldn't. That's the thinking behind StanleyBlack&Decker tool tethering solutions.
You can ensure the essential tools required at any particular work station are always to hand, by tethering them in place:
no need for operators to bring their own

no chance of the right tool being in the wrong place

no danger of tools making their way into the production process.
For a more sophisticated solution, or for when tethering isn't appropriate, RFID-based electronic tracking will help you keep track of tools wherever they are.
If a tool's been mislaid or borrowed it's easy to get back. And if the worst has happened and it's made its way into the production process – or even into the end-product – it can be traced and retrieved before any damage is done.
Finding out more about StanleyBlack&Decker tool control is easier than finding lost tools without a tool control system. Simply contact your usual ERIKS Service Centre.
Related Posts