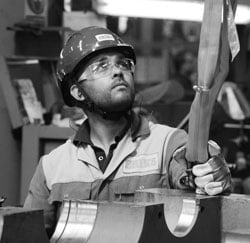 Products, like people, are tending to live longer. And as with people, the older products get the more often they fail, and the more expensive they are to repair. That's an issue the NHS is still trying to resolve, but which ERIKS is already helping to solve for its customers.
That not only means that every product you buy from ERIKS should last longer and be more efficient throughout its life. It also means that, in the long-run, it will cost you less.
As ERIKS UK CEO Steve Waugh said at the launch of the ERIKS Regional Hubs: "We will support our customers throughout the lifecycle of their industrial products... from cradle to grave".
"Genetic" Engineering
We hear about scientists looking at engineering genes to create "designer" babies, to suit "parents" specific requirements in the news. As unnatural as this sounds our ERIKS' engineers can already offer a similar service for UK industry.
Through customisation, ERIKS can meet your requirements with products and services that are precisely tailored to what, how, where and when you want them. This can include kitting, sub-assemblies and even complete project management.
We take the same approach for equipment repairs. If we identify an issue which requires a repair, we won't just fix the problem for you, but will look for the root cause of failure and identify how we can engineer it out of the component or application. The result will be the elimination or reduction of the failure, an extended product life, and a reduced Total Cost of Ownership (TCO).
More TLC. Less TCO.
It's not the price tag but the Total Cost of Ownership that is how the most efficient and successful businesses assess their product purchases.
If money saved on the initial purchase is later spent on maintenance, repairs or more frequent replacements (because of a shorter product life), then the savings are soon wiped out.
But if a reliable, sustainable, energy-efficient choice is made, then you can expect a longer and more cost-effective product life. Or in other words, a lower Total Cost of Ownership.
One way to ensure longer product life and lower costs is through monitoring and maintenance. So as well as providing products, ERIKS provides support services to take care of them.
From Condition Monitoring to Predictive, Preventative and On-Site Maintenance, it's a comprehensive menu designed to help you minimise downtime, maximise uptime, reduce repair bills, avoid catastrophic failures – and get the longest possible cost-effective service life from every single component.
Know-How Where you Need it
Service and support are good in theory. In practice, they're only as good as they are accessible. Which is another strength of the ERIKS Regional Hubs.
By bringing know-how and expertise to your doorstep, the Regional Hubs make sure you can access the support you need, when you need it.
Because the services, expertise and inventory of the Regional Hubs are tailored to the industries in the region, you can be sure of support that's relevant, engineers who understand your applications and issues, and the specific products you need – available off the shelf.
Life Partners
Having the same supplier or MRO provider for life is not the same as having the same partner for life. And ERIKS aims to be your trusted partner.
We can be involved with your equipment from initial design and specification – if required – through building, installation, commissioning, maintenance and repair, to end of life and replacement. So we will know and understand your equipment in depth, and just as well as you do.
Because we're in it for the long-term, as time goes by and technology, the industry, or legislation changes, we can help you to discover and implement improvements, upgrades and innovations that will help you:
Increase your efficiency

Optimise your productivity

Stay compliant with current rules and regulations

Reduce your Total Cost of Ownership
Its a very long list of highly desirable aims - but you can rely on ERIKS to bring them all together for life.
Related Posts