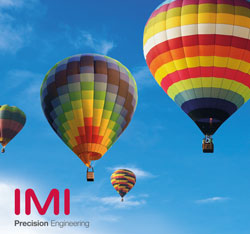 Clean air is something we take for granted. But what's clean enough for us to breathe may fall short of whats's clean enough for your sensitive and expensive instrumentation and controls.
Particularly in the kind of challenging environments found in the chemical industry. So what solutions do IMI Precision Engineering have, to ensure that air - which you can't see - is free from contamination - which you can't see either?
Even a brand-new airline system uses air that's been around for ever – and which is already contaminated. So from day one, your new airline could be subjecting your equipment to water, oil or particle contamination.
The result will be corrosion, clogging or seal softening, leading to increased air and energy use, higher costs, reduced performance – and increased downtime and maintenance costs if you are lucky.
"Will protect your sensitive, expensive instrumentation and controls"
If you're unlucky, you could face a catastrophic equipment failure and an unplanned shutdown.
So if you're designing a new system now, you should be designing-in the solution to contaminated air. And if you're already operating an airline system without the necessary protection, now's the time to think about taking remedial steps, before it's too late.
Never Out of Their Depth
IMI Precision Engineering have been designing and manufacturing the leading IMI Norgren brand of gas and air preparation systems specifically for the oil, chemical and gas sectors for over 30 years.
These IMI Norgren pressure regulators and filters are designed and built to operate under some of the toughest conditions you can imagine: on rigs in the harsh environment of the North Sea. In that kind of location, there's plenty of fresh air about – but usually blowing in on a Force 10 gale, and whipping up 40-foot waves to go with it.
Robust construction and dependable performance are essential in locations like these, when the nearest replacement parts may be a supply ship voyage away, and an unplanned shutdown could cost thousands of pounds an hour. So as you can imagine, products that can perform successfully out at sea will easily take a chemical plant environment in their stride.
Made from 316 stainless steel, IMI Norgren filters and regulators have a high level of resistance to corrosive atmospheres and media, and meet international safety standards. They provide not only a longer service life, but also longer service intervals without noticeable loss of performance or increased energy use.
They're also designed for straightforward fitting, to help keep downtime to a minimum – as well as being available in a range of different port sizes, to suit numerous different applications. The filter solutions also offer a choice of manual or automatic condensate drain, to suit your needs.
Triple Filtered for Purity
It's not just premium vodkas and superstrength lagers that use triple filtering. IMI Norgren air preparation solutions also use a three-stage filtering process, to ensure the filtered air is as free from contamination as practically possible.
Most filters only filter out particles down to 10-25 microns in size. The set of 5 micron, 25 micron and oil removal filters in IMI Norgren filtration systems, on the other hand, will filter particles as small as 0.01 microns, and oil contamination down to 0.01ppm. This means far more effective protection for your sensitive instrumentation and equipment. Which in turn means less maintenance, and far less likelihood of unplanned shutdowns.
IMI Norgren solutions are also designed to operate with high flows across a wide temperature range. Their high-pressure regulators, for example, are suitable for oil and gas at temperatures as low as -40°C and as high as +150°C, and for steam applications up to 300°C. These regulators – depending on the model – can handle inlet pressures up to 750 bar and outlet pressures of up to 550 bar.
Solutions to Suit You
As well as a choice of features, IMI Norgren filters and regulators offer you the choice of purchasing single products for maintenance or repair use, or a complete assembly customised to meet your needs. IMI Precision Engineering are renowned for working in close partnership with customers to address specific challenges and develop appropriate tailored solutions. These are based on this market-leading company's long experience creating systems for some of the most extreme environmental and operating conditions in the world.
The result is a range of products which will protect your sensitive, expensive instrumentation and controls, so your equipment can operate more costeffectively for longer – delivering down-to-earth benefits from air.
Spring-Loaded Regulators
Dome-Loaded Regulators

Heavy-duty quick and adjustment regulators from ¼ to 1 porting

J44: ½ port, steam applications to 300°C (570°F)

J50: 3/8 port, 750 bar (10,875 psi) inlet, outlet control to 550 bar (7975 psi)

J55: ½ port 420 bar (6090 psi) inlet, outlet control to 103 bar (1490 psi)

K16 and K50

Pilot operated balance valve regulators in 3/8 to 2 porting.

Liquid and gas operating temperatures – -40°C to +150°C (-40°F to +300°F)

Up to 420 bar (6000 psi) inlet pressure and 300 bar (4350 psi) outlet
316 Stainless Steel Filters

Filter Regulator Combination Units

F22: ½ port general purpose – particle and water removal

F22H: ½ port – oil and fine particle removal, 3-stage filtration

F05: ¼ port miniature – particle, water and oil removal

B05: ¼ port miniature 20 bar (300 psi)

B38P: ¼ port and 3/8 port, high flow

B38: ¼ port – high accuracy ½ port – high flow

IFR: ¼, ½ port filter regulator seal options to -50°C (-58°F)
Regulators

R05: ¼ port miniature – 20 bar (300 psi)

R38: ¼ port – 31 bar (450 psi) inlet, precision control

R22: ½ port high flow, control to 17 bar (250 psi) outlet
Related Posts: