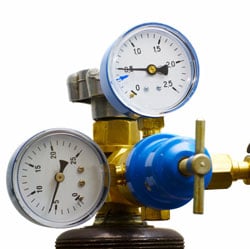 What could be more dangerous than something which is not only indispensable, but also ever-present and invisible? That's why industry needs to take more care with air. A good starting point is to follow the Top Ten Safety Tips of Bob Jackson – Safety Manager at Festo – as revealed at the ERIKS and Festo Machine Safety Event.
Although air has a wide range of uses across most industries, the very fact it is in everyday use tends to make users complacent. Which is why it's worryingly common for air sets to be incorrectly configured to meet safety standards. These Top Ten Safety Tips can act as a useful reminder of the responsibilities and risks of using air sets – and the actions you can take to address the most common safety errors and oversights.
Under pressure
Performance. It's important in the first place to specify an air set which has the correct performance for the application. This should include a safety margin of 20% – meaning that both flow rate and pressure should be capable of operating at 20% above the application's normal requirement. For example, if 6 bar pressure is required, a 7 bar regulator should be fitted. This will then meet the ISO Pneumatic Fluid Power 4414-2010 standard.
Pressure zones. Specifying pressure zones in the air set manifold will not only address safety considerations, but will also help to reduce energy consumption.
Monitoring. Real-time awareness of what is happening within the air set is essential to knowing it's performing safely and efficiently. Pressure and flow monitoring are not only aspects of Industry 4.0, but can also help to save money by optimising energy use and minimising equipment failures.
Air quality. Different industries have different standards for air quality – with the Food & Beverage and Pharmaceutical sectors having the highest. The type of equipment receiving the air will also help determine the quality required. Most Festo Pneumatics require 7.4.4. air quality.
Silence and isolation
Isolation

. Effective electrical and manual isolation ranges from performance level "A" to "E", and is designed mainly to provide protection for servicing personnel. Guidance can be found within the ISO 4414-2010 standard.
Silencers. In addition to protecting employees in the vicinity from excessive noise, silencers will prevent dirt from entering the isolation valve when it sucks in air.
Indication. Knowing how much air is present in the system is an important safety factor. Either an electrical or mechanical gauge can be used, though an electrical version is not only more accurate but also safer, as it can be fixed at a distance from the system.
Mounting, venting and dumping
Mounting

. It is important to mount devices in the correct manner. Some need special mount points, whilst other must be very precisely positioned and in the horizontal plane only.
Venting. Sometimes you may need to rapidly vent a system. However most regulators do not vent effectively, so it is safer to choose a device with a bypass.
Dump valve. A safety dump valve is the last dynamic component in the system. The unit should meet your system's required performance level (A-E), and the exhaust requirement if – for example – entry to the machine is via a light guard or door.
For a copy of the ISO 4414-2010 standard, click here. You can watch the full presentation by Bob Jackson at the Machine Safety Event below.
Related Posts