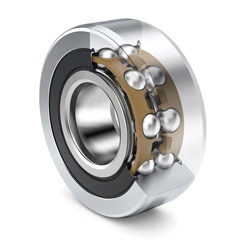 High performance is the elusive "X factor" engineers are always looking for in their rotating machinery. Now it's available in a new range of track rollers, that offer longer operating times, increased efficiency and even greater reliability, says Dr Steve Lacey, Schaeffler Technology Centre Manager
Straight to Number 1
The redesigned LR52 and LR53 series of X-life track rollers from Schaeffler are not simply the highest performing track rollers in the X-life family. They're actually the number one performing track rollers currently available anywhere on the market.
Track rollers are self-retaining double-row units with particularly thick-walled outer rings. In addition to supporting high radial forces, these bearings can also support axial forces in both directions.
The outer rings have a crowned or cylindrical outside surface. The crowned surface is an advantage where the outer rings are inclined in relation to the mating track, because it ensures reduced edge loading if misalignment occurs.
These latest additions to the X-life product family offer significantly higher load-carrying capacity than their predecessors, with a longer rating life too. And with an increased dynamic load rating of 15% compared to competitors' products, together with a sizeable speed limit increase, it's hardly surprising that they top the performance charts.
Increased dynamic and static load ratings

Same dimensions - no installation issues

New Design features
The X x Y factor
Although there have been major improvements made to the internal design of the bearing, the external dimensions of both series have been kept the same as their predecessors.
This means customers can simply make a straight swap of their existing track rollers for the LR52 and LR53 X-life track rollers, with no installation issues, and no modifications required to their application. So they can start benefitting from the improved performance straightaway.
The internal modifications to the LR52 and LR53 series have introduced a range of new design features. Together, these have achieved a dynamic load rating increase of up to 15%, and a static load rating increase of up to 10%. There's also been a significant increase in the bearing rating life.
Both series are offered with DEH P-free HRS seals as standard, with the option of steel Z sealing shields. The sealing performance of both types of seal has been improved over previous versions. The HRS seal has an innovative lip contact design, creating axial contact between the inner ring and the seal lip. This helps to keep grease in the bearing whilst keeping out contamination at the same time. The Z seal has a labyrinth sealing function, and makes a wider operating temperature range possible, when it's used in combination with a steel cage (rather than theoptimised polyamide option) and adapted greasing.
The unwanted ingredient
Lubrication is an essential aspect of maintenance for any rotating equipment. However, for food and beverage producers, it brings the added complication of ensuring lubricating oils and greases don't transfer from the processing equipment to contaminate the product.
That's why, from now on, all Schaeffler corrosion resistant deep groove ball bearings and radial insert ball bearings – used increasingly in the food industry – will use new FAG Arcanol FOOD 2 as standard.
FAG Arcanol FOOD 2 rolling bearing grease is registered to category H1 with the American National Sanitation Foundation, which applies to all greases and lubricating oils which occasionally come into direct contact with food. In addition, the new grease is certified for use in both Halal and Kosher food processing environments, where Jewish and Muslim food laws apply not only to the food or beverages themselves, but also to the machines and environments in which they are processed.
Schaeffler also offers a range of other lubricants, designed for specific bearing applications. The Arcanol series of rolling bearing greases offers better properties than standard greases and – depending on the lubricant chosen – is suitable for extremely high temperatures, heavy loads and high-speed production environments.
Halal and Kosher compliant

Standard on food-use bearings

NSF H1 certified
X-life Top Ten
Here's a rundown of the Top Ten advantages of the new X-life LR52 and LR53 track roller:
15% higher dynamic load rating

10% higher static load rating

Improved contamination protection

Large grease reservoir

Low bearing temperatures

Less strain on the lubricant

Downsizing capability

Unchanged external dimensions

Choice of seals

Choice of cages
Related Posts