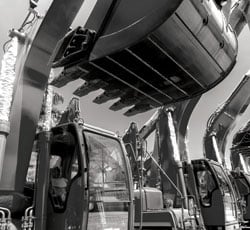 Kitting solutions for OEMs are nothing new. In fact they're an acknowledged way to achieve lean manufacturing and value engineering. But there are kits of components – and then there are kits of components that come packaged with added-value design and engineering support, application expertise, distribution and logistics excellence, and all-round know-how.
Supplying kits saves time, increases efficiency and reduces the possibility of assembly errors. Adding value to those kits can also help add value to the end-products.
A supplier with expertise in the end-user's application, for example, can help and advise at the very earliest stages of product design and development. Is that the most efficient hydraulic system design? Could it be routed better? Is there a way to reduce the number of fittings and joints – which will in turn reduce the risk of leaks?
A supplier won't have the answers. A supplier with application know-how will.
Best in the field
Knowing how and where equipment is used in the field is essential when designing and developing. However, when it comes to upgrading, the knowledge gained from maintenance and repair can prove equally valuable.
A supplier who also provides an MRO service to end-users will have first-hand knowledge of how a particular piece of equipment performs in the field. Maintenance and repair records will reveal the most common problems experienced with the equipment. And a supplier with all-round know-how will also be able to provide long-term solutions which can be built-in to the upgraded equipment.
For example, an end-user experienced repeated failures of a hydraulic hose in a piece of equipment. As the end-user's MRO provider, ERIKS identified the problem as overheating of the hose due to its routing close to the engine.
Re-routing wasn't an option in this case, but ERIKS was able to specify a hose with greater heat resistance. This kind of information is invaluable when fed back to the OEM.
Cut hose connection time in the factory by over 50%
The chosen many
A component manufacturer offering kitting will offer only their own components.
A major distributor, on the other hand, will be able to offer a wide choice of components from a range of manufacturers, and at a range of price points. So as an OEM, you can choose the component which offers the most appropriate value for your customer's application – whether that's premium branded or a lower-cost generic solution.
However, in a high-risk operating environment such as a quarry, cost is not the only consideration. Health and safety are also major issues, with a huge influence on the design and specification of equipment. ERIKS runs "Working Safely with Hydraulic Hose and Connections" foundation courses, in conjunction with the British Fluid Power Association (BFPA). These provide inside knowledge on best practice and real-world operation, all of which can be fed back to equipment manufacturers to inform equipment design and component specification – and then ERIKS can supply the correct specification components in their kits.
For example, the Machinery Directive imposes a Duty of Care on OEMs for the fitting of burst and leak-proof hydraulic hoses, if they pass within 1m of the operator. To meet the requirements of the legislation, ERIKS can supply Gates LifeGuard™ Line-of-Sight Sleeving System – an innovative solution with no direct competitor.
Gates LifeGuard contains and absorbs bursts at pressures of up to 10,000psi, and pinhole leaks of up to 5,000psi at temperatures of up to 121°C, for up to 5 minutes. It also meets ISO 3457, and the MSHA flame-resistance requirements.
The quick answer
Another example of ERIKS' added value for OEMS is the Quick-Lok hose connector.
ERIKS' MRO experience has revealed the limitations of threaded hose connectors in terms of leakage, service life and serviceability – with their knock-on effects on warranty costs.
The solution is the Gates Quick-Lok from ERIKS, which cuts connection time in the factory by over 50% – from around 2½ minutes to just 10-20 seconds. And not only is Quick-Lok quicker to connect, but it's also error-prof and tamper-proof, providing a verifiable connection which eliminates leaks, maximises service life and reduces warranty claims.
As part of your ERIKS' kitting solution, it's one more way ERIKS adds value, reduces your costs, increases your equipment's performance and maximises your productivity and profitability.
Adding value to kitting adds value to your end products
Power to perform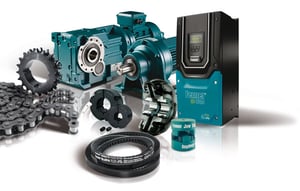 Another option to help ensure your production processes perform at their optimum is to purchase drives in modular form or ready-assembled in-house. This saves crucial assembly time, maximises engineering productivity and – sourced from a reputable manufacturer such as Fenner – increases your product reliability.
A large mineral company has taken this route – purchasing part-assembled Fenner belt drives comprising pulley, belts, and Taper Lock bushes.
Within the Fenner range we can also manufacture special design product – as it does for a large crusher manufacturer needing specialist steels and ductile irons to run at very high speeds.
Fenner power transmission products can be tailored to meet your specific requirements – however exacting – in a number of ways. For example, Fenner inverters can be commissioned on site to speed up installation. Fenner gearboxes can be reworked with any special ratios and output speeds you need, before delivery. And components can be specially bagged, tagged and barcoded, then delivered as and when required to meet your production schedules.
These are all proven short-cuts to efficiency and productivity. But ones that don't cut corners. Product quality and reliability, continuity of supply, worldwide availability and competitive pricing all remain as you would expect from a brand with Fenner's reputation.
Whatever your kitting requirements, a call to your local Authorised Fenner Distributor or ERIKS Service Centre will tell you all you need to allow you to rationalise your stockholding, simplify assembly during production, and realise cost savings for your business.
Related Posts