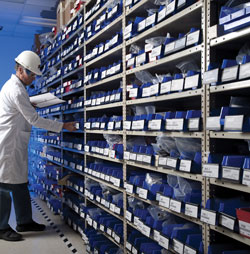 For effective operation of a factory store, regular stocktaking is crucial. But a recent "stocktake" by ERIKS in association with the Institution of Engineering and Technology (IET) went further.
It was a nationwide survey of IET members, to find out just how they organise, manage and run their factory stores – and even how often they conduct a stocktake.
The results were fascinating, surprising, and in some cases very worrying.
Keeping Count?
The answers to the question "When did you last complete a stocktake" – as revealed in the survey show that the industry is not doing enough to keep track of its maintenance and repair parts. Which may also explain why over a third of respondents to the survey said it took more than thirty minutes to find a part in their stores.
Can you imagine the negative effect that has on:
Downtime

Productivity and

Engineers' efficiency?
But it's not only time that the survey shows is wasted by badly organised or poorly run stores. Millions of pounds a year are spent by UK industry on indirect stock for manufacturing processes – from tools to pumps, drives and motors. Yet 10% of that budget is wasted on unnecessary duplicate parts.
When factory floors are going all-out to trim waste, maximise efficiency and cut costs, how can such a wasteful, inefficient and expensive operation as the traditional factory stores go on operating?
Searching for Answers
The ERIKS / IET survey was carried out over July and August 2015, and involved questioning engineers, maintenance and storeroom personnel in IET member companies employing over 150 of this type of staff, in a variety of industrial sectors.
The answers reveal the state of the UK's factory stores – but they also show that many of the people questioned are looking for an answer themselves: the answer to making their stores more proactive, more efficient, and more aligned with the rest of their organisation.
One option is to outsource some or all of the stores function, either short-term or long-term.
In the short term, outside expertise can help to reorganise stores with something as basic as better storage media, or can completely transform the way stock is ordered, stored and distributed. In the long term, outside experts can be brought in to actually run the stores, without any loss of ultimate control on the part of the business.
Proven success
The ERIKS / IET research paper based on the survey – entitled Factory stores – manufacturing's necessary evil – also includes two case studies of successful interventions by the ERIKS Storeroom Solutions team.
The first details a complete stores refurbishment for one of the UK's leading manufacturers of radiators, together with the introduction of a new, cost-effective way for employees to access PPE. The second looks at a stores rationalisation in the utilities sector, which reduced the total stock value by no less than £700,000.
In both cases, ERIKS was able to save the customer money. And in fact, organised and run efficiently, there's no reason why any factory stores in any industry sector can't be transformed from a cost centre into a profit centre. All it takes is the know-how to resolve the issues and the resources to deliver the solutions.
You can find out more about ERIKS Storeroom Services here. And to download the ERIKS / IET research paper, with its survey results, case studies and the thoughts of engineers, maintenance personnel and storeroom managers, just click below:
Related Posts: