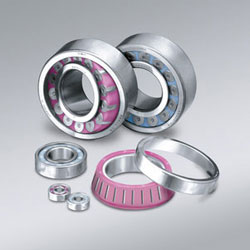 60 hours of production were being lost each year through repeated bearing failures, before a manufacturer of fish products asked ERIKS for help.
The problems at this particular production facility were arising in their Scraped Surface Heat Exchangers. These were operating as part of a continuous process, and fouling of the heat exchangers – with a subsequent reduction in heat transfer efficiency – can occur. In fact, the internal scrapers are designed not only to mix the product but also to remove material build-up at the same time.
However, the customer had five heat exchanger units, and was experiencing twelve bearing failures a year – each one resulting in five hours of lost production and associated repair costs.
It was the loss of production which finally convinced the Production Manager he needed help. He called upon ERIKS' unbiased technical know-how to help resolve the issue; ERIKS recommended that one of their partner suppliers, NSK, would be best able assist on this occasion.
Lubricant Breakdown
Under the NSK Added Value Programme – AIP, NSK's experienced application engineers help production and maintenance managers to understand the causes behind bearing failure. Then they suggest steps to put it right, to improve reliability and efficiency, and to reduce the frequency of breakdowns attributed to bearing failure.
By implementing this comprehensive programme, customers can expect to save time and money, and improve profitability and competiveness.
Maintenance-free
Molded-Oil technology has been developed by NSK to improve bearing reliability. The Molded-Oil system uses an oil-impregnated resin to provide lubrication to the bearing, which allows for maintenance-free operation. Similar designs are available from other bearing manufacturers, but offer considerably lower lubricating oil content than the 50%+ by volume provided by the NSK technology. NSK offers its Molded-Oil technology on standard deep groove ball bearings, spherical roller bearings and tapered roller bearings with inside diameters up to 110mm. The bearings can be manufactured from stainless steel for applications in corrosive environments, or for exposure in wash-down facilities.
60 Hours and 96,000 Saved
The trial period for the fish products manufacturer eventually ran to more than three years, but the bearing still showed no signs of requiring replacement. In fact, its performance was more than enough evidence for the Production Manager to request installation of the NSK solution across all five heat exchangers.
As a result, the company avoided repeated production shutdown and repeated maintenance and repair costs, saved 60 hours of lost production, and made cost savings of over €96,000.
Related Topics: