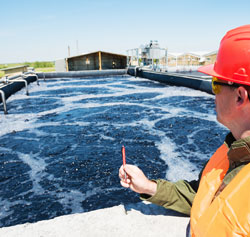 There are two things happening at every sewage treatment plant – both essentially invisible, but both crucial to its operation. One is positive, while one is negative and potentially disastrous.
One, of course, is the unseen activity of the microbes in the aeration lanes, going about their round-the-clock business of reducing toxicity levels in the waste. The other is the unseen deterioration through everyday wear and tear of the motors, blowers, pumps and gearboxes which drive the aeration process.
If any of this plant fails, or is operating incorrectly – either allowing a leak of compressed air into the aeration lanes, or restricting the air flow – it's a problem which will bubble under until it eventually comes to the surface, with catastrophic and highly expensive consequences.
The price of air
As every engineer knows, there's no truth to the phrase "free as air". Air costs money to get it where you want it, and air in the wrong place can cause costly problems.
This is particularly true in sewage treatment, where a leak can mean too much compressed air discharged in one place and not enough in others – resulting in the dissolved oxygen levels dropping below the operational requirements – or a blockage in the distribution domes leading to a build-up of air pressure and eventual rupture of air lines.
In either case, this has two major effects:
Failure to meet the requirements of the Consent to Discharge – leading to a fine
The need to repair or replace plant – which piles maintenance or replacement costs on top of the fine.
Clearly there's a need to detect and address leaks or blockages as soon as possible. But even better would be preventing their occurrence in the first place.
Engineers – or sewage treatment engineers?
A pump is a pump is a pump. And a blower is a blower is…you get the idea. So any maintenance engineer should have the knowledge and equipment to spot an issue with any of them, repair the fault or replace the failed part, and get it up and running again.
But a sewage treatment pump or blower is something slightly different. It's part of a unique process with unique requirements, and having an understanding of that process can lead to less disruptive, faster and more effective repairs.
All ERIKS engineers working with the water industry have more than just knowledge. They also have know-how: a deep understanding and long experience of the industry and its unique processes and requirements. This means they know how to react quickly and effectively to maintain the fine balance between your operational needs and the demands of completing their task.
Prevention or cure?
Even with 24-hour call-out, huge stocks of equipment and spares, and in-depth industry expertise, ERIKS engineers can't turn back the clock and reverse the damage that's already been caused by an air leak or blockage.
But what they can do is provide preventive maintenance which could greatly reduce the risks of leaks or other plant failures, so the problems don't arise in the first place.
Condition Based Maintenance, backed-up by ready availability of strategic spares, can ensure that those problems bubbling under in your plant are addressed and resolved before they ever have the chance to surface.
To find out more about ERIKS' water services, or to see some of our industry case studies, please visit www.eriks.co.uk. Or Click below to download a copy of our Water Services brochure.
Related Posts: