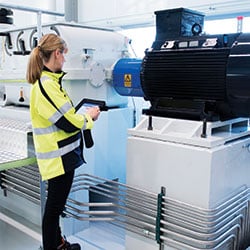 With the emergence of the smart factory, we have a plethora of technology to take advantage of, but being able to actually utilise the technology is another story.
Take Condition Monitoring for example, buying the monitoring technology and sensors doesn't necessarily mean you will have the ability to interpret the data which comes from it. And if you aren't able to understand the data then you've wasted money on a state-of-the-art solution which has been rendered useless by lack of specialist skills.
Now if you aren't ready to invest in a specialist company such as ERIKS, there are companies who offer simple solutions. One such innovator is SKF, who has introduced a new handheld sensor with supporting smartphone apps to simplify critical machine condition monitoring data.
SKF's Enlight QuickCollect sensor is straightforward and robust, monitoring both vibration and temperature. The data is transmitted wirelessly to a mobile device, where an entry-level app called Enlight QuickCollect can provide machine diagnostics for storage and analysis.
And if you need extended diagnostic capabilities as well as the ability to manage and monitor maintenance tasks and inspection data, an upgraded second app - SKF DataCollect - is available to Enlight QuickCollect users.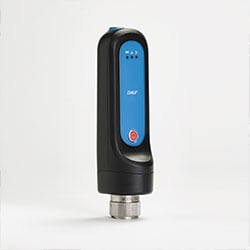 The key benefit of the Enlight QuickCollect instrument is its requirement for minimal training with no special skills - designed with the user in mind to be worked as part of a walk-through machine data collection routine by service, operations and maintenance staff. But, this simplicity does not mean lack of functionality, Enlight QuickCollect is able to monitor many assets quickly and efficiently, providing an analysis of each asset's condition in real time.

What's more, the DataCollect app provides automated vibration diagnostic features based on ISO standards, compliance of maintenance tasks and inspections, report generation, date and time stamping and compatibility with SKF's @ptitude Inspector software to support your regulatory needs.

By selecting a complete solution designed by experts for practical use you are able to identify developing rotating machinery issues before they become problems, saving you time and money while getting you one small step closer to operating an efficient smart factory which works with all your staff.

Still not convinced? Watch the video below for more information.
Want to know more? Contact your local service centre on 0845 006 600. Or if you're attending the ERIKS Innovation Excellence event at the MTC, Coventry, 3rd October 2017, visit the SKF Stand.
Related Posts