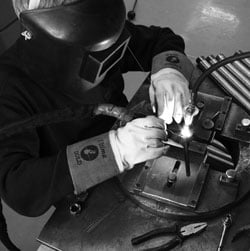 What's inside the new ERIKS Regional Hubs to help your productivity, efficiency and sustainability?

An earlier issue of Know+How looked at the new ERIKS Regional Hubs, and how they're bringing the resources of a national organisation to easily accessible, local hubs. So exactly what kind of resources can you expect to find in your nearest ERIKS Regional Hub, to help improve your performance, productivity and profitability?
What the Regional Hubs are not is just as important as what they are. Because they're definitely not just a shop front or a forwarding address, trying to put a regional presence on a centralised organisation. What they are is a fully resourced, fully stocked, fully supported source of ERIKS know-how, products and experience, brought right to where you want it.
In fact, they go even further.

Because ERIKS Regional Hubs are fully-focussed on the regions where they're based, and staffed by customer service and engineering personnel who know and understand the region, they offer highly-specialised support for the major industries within each region.

So you can expect a product stockholding tailored to the requirements of your industry, with factory-fresh key parts and consumables from leading brands available off-the-shelf, and all fully traceable. You can also rely on continuity of supply, and in-depth product and engineering expertise.

Which means you can get the products you want more quickly, and the answers and support you need more easily.
Workshops that work
Every ERIKS Regional Hub includes a highly-equipped engineering workshop, ready to repair or restore any of your critical mechanical and electrical LV and HV assets, drives, valves, pumps and switchgear.

But it's not only the equipment that counts.

The workshops are staffed by time-served specialists with extensive experience, who can apply ERIKS' know-how to providing you with effective, economical, reliable repairs and refurbishments. And if components are needed that are hard to find or only available on a long lead time, they can call on the support of dedicated machining cells within the same Regional Hub, to manufacture the required part on
the spot.

This speed and flexibility is a major advantage of the ERIKS Regional Hubs.

In the time it takes most companies simply to acknowledge your order, the Product Customisation Cell within a Regional Hub can build and test whatever customised assembly you require – to the highest standards, in the fastest time, and across a wide range of products from gaskets to hydraulic hose, and pneumatic assembles to complete drives.
The know-how you need
The right equipment, the right components and the expertise to go with them are all part of the ERIKS Regional Hubs' offering. But there's more you can call on too.

ERIKS' all-round repair and replace capabilities mean you're never forced into a decision that might not be right for you. Instead you'll be given an impartial recommendation based solely on your situation, application and requirements, so you can make your own choice.

For larger projects our technical specialists have the support of a design and engineering team, equipped with CAD and design analysis tools. They provide cost-effective solutions for standard parts customisation, sub-assemblies and full turnkey projects – including project management. For repairs or maintenance for movable assets, the workshop has everything that's needed for the job, or there's a mobile team to carry out work on fixed assets on
your site.

A site visit is often included before any proposals are made, to make sure you get a solution that's tailored to your specific application. And whatever the proposal may be, your ERIKS Regional Hub will be able to see it through from beginning to end – including testing and certification to international standards if required.

Lastly, ERIKS' know-how enables our Regional Hubs to look at every issue from a Total Cost of Ownership viewpoint. So you'll always receive a long-term, cost-effective solution – not a cheap short-term fix that you'll pay for in the end.
Related Posts