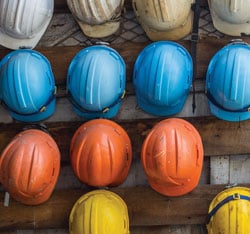 Health and Safety is a literally life-saving topic in the Mining and Quarrying industry. And as a major supplier to the sector, ERIKS also take H&S very seriously. As CEO Steve Waugh explains, ERIKS UK believe Best Practice starts at "home".
Which is why ERIKS have developed the 6 Golden Safety Rules that lead to Zero Harm, Zero Injuries, Zero Compromise and Zero Accidents.
A quick glance at recent industry headlines soon reveals the risks involved in mining and quarrying operations. However, there's also good news to be found, such as the "Safer for All" campaign being run at Hills Quarry Products' sites, where employees even took part in a special two-hour health and safety training session on their first day back at work this year.
And the launch of the Health and Safety Executive's five-year strategy to "Help GB Work Well" promotes the clear links between risk management, and productivity. As Justin Tomlinson MP – who has responsibility within the Government for health and safety – pointed out: "Taking sensible steps to keep workers safe and well is something that the best-run businesses do. It's good for people, it's good for productivity and it's good for growth."
Creating the zero accident workplace and ensuring everyone returns home safely
Safety is golden
Talking the talk is one thing. Walking the walk is another.
Having taken the lead from a major public utility on health and safety – ERIKS adopted a Zero Accident approach and saw the importance of applying the highest safety standards throughout our own sites. The same initiative was applied business-wide, and 6 Golden Safety Rules were introduced in tandem to support it.
The 6 rules are:

1. I will never work under the influence of alcohol or drugs

2. I will never walk, stand or work under a suspended load

3. I will only undertake work for which I am trained, competent and authorised

4. I will never misuse or tamper with safety controls or equipment

5. I will always ensure that all energy sources are safely isolated before commencing work

6. I will always wear properly the personal protective equipment required for the job
It is every ERIKS' employee's responsibility to ensure that these rules are followed at all times, and if anyone is seen breaking the rules, any employee has an obligation to challenge them at once – and report the incident to a member of the site management team.
ERIKS have also issued "Authority to Stop" cards to all employees, which make it clear that they have the authority – as well as a duty – to intervene in any incident of rule-breaking.
Good for people, good for productivity, good for growth
Get home safely
For ERIKS, safety is one of our business's core values, which ensures everyone returns home safely.
That includes suppliers and visitors to ERIKS' sites, who are also expected to adhere to the Golden Rules.
And the know-how ERIKS have applied to health and safety within our own organisation can also be shared with customers, to help create a zero accident workplace for them too.
One of the lessons ERIKS can pass on is that keeping employees safe doesn't have to be expensive, or at the expense of productivity. In fact it can even help to maintain productivity by minimising downtime caused by accidents, and to reduce unforeseen costs by avoiding the risk of fines.
In a recent case where an employee at a quarry lost two fingers in an unguarded drilling rig, the employer was not only fined £7,200 but also ordered to pay costs of £27,000.
Six of one…
Alongside ERIKS' 6 Golden Rules, the Health and Safety Executive has introduced its own six themes to be pursued through its five-year health and safety strategy.
The HSE's 6 themes cover:

1. Acting together to promote broader ownership of health and safety

2. Highlighting and tackling the costs of work-related ill-health

3. Simplifying risk management and helping business to grow

4. Supporting small employers with simple advice

5. Anticipating and tackling new health and safety challenges

6. Promoting the benefits of Great Britain's world-class health and safety system
With experience in advising on health and safety for businesses of all sizes – including a major public utility – and through our own in-house activities – ERIKS have gained wide practical experience in the field.
If you would like to benefit in your own business, visit www.eriks.co.uk or contact your usual ERIKS Service Centre.
Related Posts: