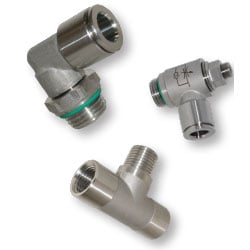 The new range from FLEXION offers some of the best stainless steel push-in fittings and adaptors you can buy, for use in the food, pharmaceutical and chemical industries – or anywhere with aggressive washdown regimes.
Designed to withstand corrosive environments and substances, the FLEXION range includes push-in fittings for tube sizes from 4-12mm, and adaptors for 1/8 – 1/2 tube sizes. Quick and easy to install, they feature an FDM seal capable of withstanding temperatures up to 150°C, and all taper threads come pre-coated with PTFE.
FLEXION has been working with suppliers to ensure not only the quality, performance and reliability of the products, but also their continuity of supply. So reliability doesn't end with the products' performance. You can also rely on readily available stock from the company's main West Midlands warehouse, and technical support if you need it from ERIKS Fluid Power specialists.
Related Posts