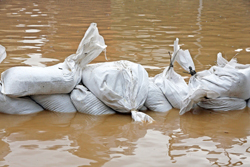 Over the last few years, the change in the English weather has seen freak storms and a rising number of areas, previously outside of known floodplains, were blighted by flash floods.
One of the major issues Britain faces is that over the last 5-10 years or so the work dredging the rivers and keeping the banks clear has largely stopped due to cost implications. This has had a massive impact on how quickly river water flows; resulting in the bursting of river banks, and with the adverse weather conditions flooding may become more frequent as it most likely tends to be caused by excessive rain that our water systems cannot cope with.
As a consequence of excessive rain over the last few years the water table has now changed, rising considerably this effect is quicker saturation of land when it rains hence local flooding. This has resulted in additional flooding in recent years and new areas succumbing to the rising water levels, the government has now restarted the dredging of river etc. and also reinstated flood plains once again.
Last year our ERIKS Electro-Mechanical workshop in Greenford was flat out helping a water authority last winter getting failed wastewater pumping stations back on line, with work lasting until March/April time. These stations are used to pump the sewage from a collection point and sent onto a further collection point and then sent onto a large plant to be processed.
One of the projects we were involved in was flood protection of the sewage pumping stations a lot of which flooded in February of 2014 next to the Thames River, which resulted in sewage not being pumped away but flooding into the streets and houses due the pumps and electrical ending up under water. There was a desperate and angry response from the public and a tirade of complaints of the sewage flowing in the streets and the smell as well as a good chance of somebody catching disease from the water which was present all around the houses.
Here, ERIKS discussed a number of ways we can counteract future disastrous situations and prepare our waste water systems for wet and unpredictable conditions.
Flood Defences
To help protect against flooding, flood barriers could be created for each station. Recently ERIKS undertook on a project of this nature, it was decided to build a surrounding wall around the existing building with specially designed flood doors which when closed would prevent the water from entering the pumping station and prevent the pumps from being submerged in flood conditions.
Pump Upgrade
Ensuring all your pumping stations are working correctly and up to capacity consider pumping station upgrades. This will help to make sure the pumps are working to their full capacity. Assess the working order of your pumps and filter out those not fit for purpose in flooding prone stations. Once these have been identified an upgrade or redesign of the station can be considered and the practicality of a flood defence system or submergible pumps could be considered.
For more information on our water services and case studies please click here.
Related Posts: