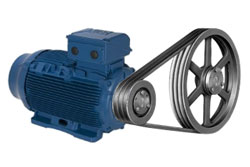 Drives and Power Transmission are two areas ripe for energy saving. Mark Maher – Drives and Power Transmission Technical Manager, ERIKS UK – outlined some of the routes to reducing their energy use, in his presentation at the ERIKS and Festo Energy Conservation Operation (ECO) Event.
As Mark explained, there are essentially two paths to optimising the use of a motor's energy:
Don't over-produce

Maximise equipment efficiency.
Over-production can be managed by methods such as flow control valves, but their weakness is that they operate after the event, so losses incurred by over-production are still incurred. Alternatively, maximising equipment efficiency not only reduces energy use, but also the associated losses.
The appliance of S.C.I.E.N.C.E.
A useful reminder of how to maximise your equipment's energy efficiency is S.C.I.E.N.C.E., or:
S

elect Correctly

I

nstall Effectively

N

ever Compromise Efficiency
Motor selection is partly guided by legislation, which has now effectively banned IE1 efficiency-rated motors in the EU, and removed the corporation tax benefits from IE3 motors. Clearly, Government wants us to move to IE4.
There is still then the choice between traditional induction motors or more recent innovations such as permanent magnet and reluctance motors. Induction motors – despite the age of the technology – represent the state-of-the-art, with 94-95% efficiency and ready availability.
Connected thinking
The next choice to make is the shaft equipment connected to the motor. Here, the options are:
Friction belt drives

Fluid couplings

Magnetic couplings

Synchronous belt drives

Gearboxes and speed reducers
All of these have advantages and disadvantages.
Wedge belts, for example, are up to 94% efficient, but have inherent slip, whereas synchronous belt drives can be up to 98% efficient. However, a worn pulley may reduce efficiency to as little as 88%. Belt alignment and tensioning also need to be correct, or the potential efficiencies will not be realised, and pulleys will wear faster.
Fluid and magnetic couplings are both highly lossy in terms of energy, but ideal for starting heavy loads because they amplify the motor's torque.
Lastly, gearboxes and speed reducers also offer a number of options. Most gearboxes are now highly efficient, quiet, helical gear sets. But worm gear sets – though less efficient – are compact, and self-locking. This eliminates the need for – and cost of – an additional piece of equipment to lock the gearbox: on a hoist for example.
Start softly
Motors want to reach full speed as soon as possible. This means they produce up to 250% of their torque and get very hot – creating energy loss.
The most recent technology to overcome this problem is the Variable Speed Drive, which can change the speed of the motor from start-up. It can also adapt its output voltage to maintain the motor at near peak efficiency. Closed loop control VSDs use sensors to monitor demand and react to it. If a pump, for example, requires a certain pressure, the VSD will maintain this however much demand fluctuates, rather than simply maintaining a set motor speed.
So there are numerous solutions available to help you reduce your energy use for Power Transmission. The key is to take a balanced view of opposing factors, such as:
Noise versus efficiency

Efficiency versus the cost of additional equipment (a holding brake, for example)

Energy-saving versus power reduction.
An experienced supplier like ERIKS can provide valuable advice based on long experience, as well as providing you with whichever solution you need, from an extensive range.
To find out more, download the ERIKS Drives and Power Transmission presentation from the ECO Event here by clicking the image below, or contact your local ERIKS Service Centre for advice, products, and unbeatable know-how.
Related Posts